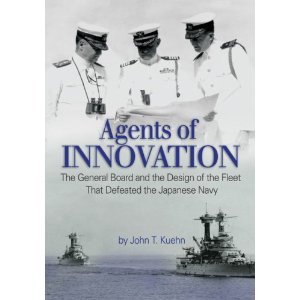 If you look to the performance of the US Navy in World War II – the ships that made victory happen came out of the shipbuilding programs of the 1920s and 1930s. At a time with no computers or modern communication equipment – and working through naval treaty limitations as well as the financial challenges of the Great Depression – we saw incredible innovation and steadily improving ship designs. Why?
A lot of the credit is given to something the Navy had then, but does not have now; The General Board.
What was The General Board, what did it do, and is the Navy today suffering for the lack of one?
Join fellow USNI Bloggers CDR Salamander and EagleOne this Sunday, 10 JUL at 5-6pm EST to discuss the issue and more for the full hour with CDR John T. Kuehn, USN (Ret.), PhD – author of the USNI Press book, Agents of Innovation, and and earlier Sterling book Eyewitness Pacific Theater with Dennis Giangreco.
If you can't join us live, you can always listen to the archive at the link, or subscribe to the free podcast on iTunes.

Posted by
CDRSalamander
in
Books
,
Hard Power
,
Maritime Security
,
Navy
Tags:
Maritime Strategy
,
Midrats
,
Shipbuilding
,
WWII