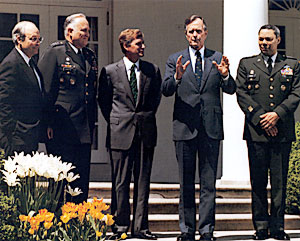 The Goldwater-Nichols Defense Reorganization Act of 1986 was implemented on 1 October 1986. It has been called the most significant Defense policy change since the National Security Act of 1947. Goldwater-Nichols gave us a globe divided into Combatant Commands, each with a CINC (until 2002, when they became COCOMs). It also made the Chairman of the Joint Chiefs of Staff the principle military advisor to the President, whereas previously the Service Chiefs had a much larger role in providing that advice.
Born of the desire to end inter-service rivalry that was evident in Vietnam, the failed Desert One 1980 hostage rescue mission, and in the invasion of Grenada in 1983, Goldwater-Nichols became the driver for "jointness", with individual services being tasked as force providers, with the "organize, train, and equip" mission, but without any longer having operational control over their respective services. I was told once that the final driver for Goldwater-Nichols was the adoption of the USAF/US Army Air-Land Battle Doctrine. That without something mandating joint cooperation, even the primary services would not play well enough in the sandbox to make ALBD viable.
The first test of the new landscape was Desert Shield/Desert Storm, and in those operations, the new system under Goldwater-Nichols received high marks. Since, however, opinions have been somewhat less sanguine regarding the effects of the Act.
While supporters of Goldwater-Nichols point to a reduction in unwanted redundancy, critics will point out that some of the redundancy that was eliminated was a necessary and prudent hedge to ensure maintenance of capability.
Supporters also laud the broader focus of our senior officers, having a requirement for a Joint tour that has them work with other services, where they learn to interact and gain insight into other service cultures. Critics charge that the mania for Joint tours has stunted the learning curve for Officers' own-service tactical and technical knowledge, and that "jointness" is a ticket punch operation with little inherent value.
Goldwater-Nichols was intended, in part, to reduce the inefficiencies at the senior strategic level of DoD, to streamline function and role of the Joint Chiefs of Staff as a part of the National Security apparatus and the decision-making process. In that way, advocates can rightly argue that the Act has been a success.
Some have charged that, instead of strengthening civilian control of the Military, Goldwater-Nichols actually reduced civilian influence, and created an American version of the Prussian General Staff, setting CJCS as the primary military advisor. They argue that the inherent inefficiency of the previous arrangement was desirable as a means of self-limiting uniformed influence. In addition, the "dual-hatting" of Service Chiefs to both advocate for their respective services AND provide sound strategic input, to be an "honest broker", was not a realistic expectation.
Certainly, weapons and equipment procurement continues to be a source of anxiety for the Defense Department, even though Goldwater-Nichols required a revamping of that entire system. Whether Goldwater-Nichols is to blame or not, I couldn't say. Whether the Act has improved anything, I could not say, either.
Goldwater-Nichols encompasses much more than I have mentioned here, including implications for other uniformed services, and even the realm of Homeland Security, which was known as Civil Defense when provisions of the Act were implemented.
So, to open it up for discussion, has the Goldwater-Nichols Act been a success or a failure? Did it do what it was intended to do? If so, were the changes for the better? Did it really change anything as much as touted? What might be revised regarding Goldwater-Nichols after 25 years? Is it time to modify or repeal Goldwater-Nichols? Is it still serving its intended purpose well?
Let's open up for discussion. I would love to hear some perspectives on Goldwater-Nichols as we approach the quarter-century mark of its implementation.
Oh, and Uniform of the Day will be Service Dress Purples.

Posted by
UltimaRatioReg
in
Air Force
,
Army
,
Coast Guard
,
Foreign Policy
,
Hard Power
,
History
,
Homeland Security
,
Marine Corps
,
Maritime Security
,
Navy