I continue to be impressed and humbled with how much Belgians remember the sacrifices made by others for their freedoms. No one asks them to do it, nor do I think the Belgians themselves make any effort to let Americans back in the States know what they do. They remember Americans of my Grandfathers generation just because they want to, I don't think I will ever stop being amazed by this fact.
This weekend Mons marked the anniversary of their liberation from the Nazis. Mons was the first city in Belgium to be liberated (2 September). In remembering this event, Belgians, French, Spanish and others dress as US Service members did during WWII.
Seeing Belgians remember Americans for what we did means a lot to me, not just because I wear a uniform today, but also because one of my Grandfathers served in Belgium as an ordnance officer during WWII.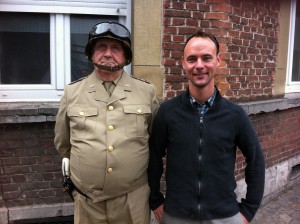 A block from my Apartment I ran into General Patton. He didn't speak alick of English. But, he did carry a picture of the General with him in his wallet, which if I understood him, his father took back in 1944.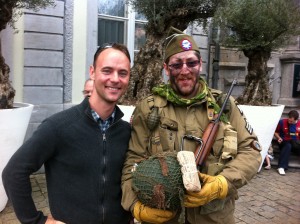 Most of those dressed as GIs wore the 101st unit patch, despite the fact that it was the 1st Infantry Division which came through Mons. The fact that Band of Brothers centered around a unit from the 101st, is what I assume to the reason why so many Screaming Eagles were present today.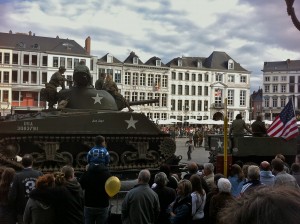 I've been told that Mons displays more tanks and American WWII vehicles for their liberation day than anywhere else in the World. The Grand Place isn't a small square by any means and today it was filled with vehicles.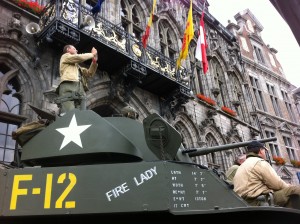 I am not able to identify the class of Tank with the yellow "F-12" on it. But, the building behind it was standing when we came through Mons (its been there since the 1500s).
This is the second time that Belgians have humbled me with how they remember their and America's shared history. What makes it mean the most, I think, is that no one asks them to remember America's part in their history. They don't have to wear American uniforms, or lovingly restore parts of America's history. But they do, and what's more is that when you talk to them and they hear your American accent, they are surprised that an American is even there.
Though, out of everything I saw today, I think I got the biggest kick out of the 'Sailor' I met today wearing Utilities that she though were dungarees. I still have my utilities and there is always next year.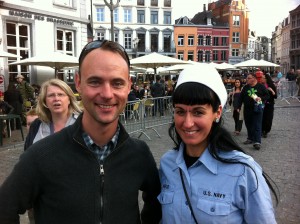 Posted by
CTR1(SW) H. Lucien Gauthier III
in
Army
,
History
,
Navy
,
Travel