Much like our parents' generation, whose memories are indelibly stamped with the dates of December 7th, 1941, and November 22nd, 1963, the terrible and tragic events of that beautiful, sunny Tuesday ten years ago have frozen in our recollections just where we were and what we were doing when we first heard and watched the events of September 11th, 2001 unfold.
Mine is otherwise unremarkable, walking onto the editing floor of a now-defunct mapping company, and hearing someone ask for a radio to be turned on, as there had been a plane crash in New York. Just a few minutes later, the newscaster reported that a second plane had struck another building next to the first. Those words were followed by several moments of absolute silence, as all 150+ editors, several supervisors, and other managers, myself included, stood wordlessly comprehending that this was an intentional act, an attack upon the United States.
However, what has stayed with me most, what I have thought about ten thousand times in the intervening ten years, was a very brief but prognostic event that took place a few days before the September 11th attack.
The weekend prior, I had been at the Worcester, MA, Headquarters of 25th Marines, participating in a planning conference for an upcoming Command Post Exercise to be held in late-October at Camp Lejeune NC. I had spent a tour at 25th Marines as the Fire Support Coordinator, and had recently transferred to 3rd Bn 14th Marines out of North Philly, but was attending the conference as 3/14 would be in Direct Support of 25th Marines for the exercise. As fate would have it, the New York-based 2nd Bn, 25th Marines would be major participants in the October event.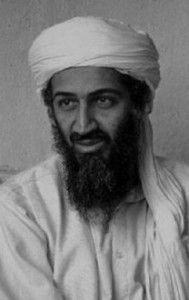 That Sunday morning (September 9th, 2001), after attending Father Rocheford's Mass, I was glancing at the Intel board while we waited for the conference to resume. The page on the top of the clipboard was an image we have all since come to instantly recognize. Across the top of the page were the words "Osama/Usama bin Ladin (sic)", and a summary of his role as the leader of a little-known group of Muslim terrorists known as Al Qaeda. One of my comrades saw me reading the paper, and looked down at the picture. His comment is forever etched in my mind. "I wonder what HE's up to," he said. "That's one dangerous son of a bitch. It's only a matter of time until we hear from him again."

Posted by
UltimaRatioReg
in
Air Force
,
Army
,
Aviation
,
Coast Guard
,
Foreign Policy
,
Hard Power
,
History
,
Homeland Security
,
Marine Corps
,
Maritime Security