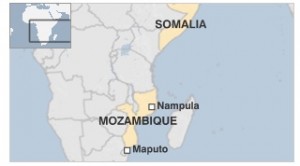 On 13 September 2011 a GreySide Group press release reported that Michael Ferguson was brought on as the Vice President of Global Operations. Just days later he and his team of three Americans and a Brit were arrested on illegal weapons charges in the Nampula Airport.
Ferguson spent 21 years with the SEALs to include deployments with SEAL TEAM 1 and SEAL TEAM 8, before becoming a weapons and tactics instructor for the Coast Guard, and, just this month, an executive for the GreySide Group – a Herdon, Virginia based international risk management firm.
According to a BBC report, Ferguson commented he and the others were on a mission to free a vessel held by pirates in Pimba.
Inacio Dina, Nampula's provincial police spokesperson, told the BBC that the weapons include a FN 5.5mm rifle, ammunition, and communications gear.
Greyside has not yet commented. The US Embassy has said they had no connection to the group.
Other details of this story are unknown at this time.

Posted by
Alexander Martin
in
Maritime Security