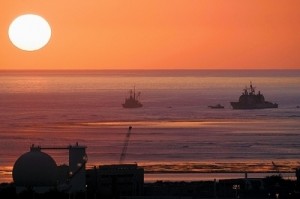 With some of the budget reduction POM options coming to the front over the last couple of weeks, everyone's Fleet-number waterfall graph just shifted to the left a few years. A quick note to those blandly blinking at the PPT; this is not a drill.
It is time to leave behind the sway-back, hidebound arguments and talking points of the Lost Decade; FRP, Optimal Manning, Transformation, exquisite systems, Network-Centric Unicorn Theory – that is in the past. The future, if you will, that never was.
They have either been measured and found wanting, abandoned, unaffordable, or perpetually shifted to the right waiting for quantum theory and pixie dust to make them operational. It is time to move forward.
One underlying fact that has finally reached the 51% tipping point in the minds of most decision makers in the last 18-months is this; in time of financial crisis the military budget will be hit harder than other parts of the budget if for no other reason than it is structurally easier for politicians to do so. With our new "Super Committee" process – even more so.
Relax; there is no need to panic. No need to wear sack cloth and ashes, bound with your full-leg metal cilices as you walk off the Blue Line, through Pentagon Station to your desk. No; it is time to straighten your gig-line, lean forward, walk with purpose to get your next cup of coffee, put a smile on your face, and get to work.
Look at what has been done by our predecessors in a time of stress; naval developments in the 1920s and 1930s in carrier and cruisers; even the 1970s, more or less, brought us the F-16, TLAM, Aegis and others.
This is a time to focus. We can come out of this period – be it 10 years or 20, in a good position if we start now to look; look not just at platforms, but what those platforms carry. Sensors, weapons, leaders, Sailors, and ideas. That is what is critical. Don't get me wrong – numbers matter for a dual-ocean, maritime, mercantile republic with global responsibilities – but what is on those platforms is more important than just numbers.
To do this right though, we need vision and leadership grounded in fact, modesty, honesty, and respect for risk. Not just that, but in our age it needs to be public vision and public leadership. The time is now to look back for a firm grip on something firm, solid, and reliable – and then reach forward.
A great worry however, is that we won't benchmark the successful responses to stress in the past clearly founded on solid programs and viable short-cycle evolutionary progresses, but instead will follow the intellectually moribund and disgraced habits of the other past as defined by a future-imperfect PPT deep and an efficiency plan as thoughtful as, "Everyone grab your spoon and take two scoops our of your rice bowl."
Simple reductions of what we have without vision and an understanding of a strategy to support it is not a plan, it is a reaction. It is drift; drift in rapidly shoaling water.

Posted by
CDRSalamander
in
Marine Corps
,
Maritime Security
,
Navy
Tags:
budget
,
Budget Wars
,
Maritime Security
,
Shipbuilding