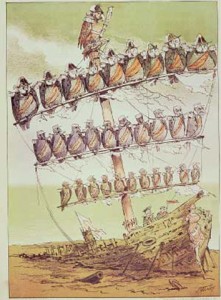 It would seem the beginning of the shrinking of the US Military is about to begin in earnest. An article from NBC San Diego lays out some of the bad news.
The famous "Puck" cartoon from about 1881 seems ripe for re-publishing. With a mere 286 ships in commission and approximately 350 Admirals, the surplus of Flag Officers in the United States Navy is astounding. Each Vice-Admiral can be (figuratively) chopped into approximately five Second Class Petty Officers, or four First Class POs.
We are looking at "hard choices" in this time of crushing cutbacks? We haven't the warships, amphibs, or auxiliaries to come close to executing the 2007 Maritime Strategy even before the cutbacks that are coming. We have a burgeoning adversary looking increasingly seaward in the western Pacific. Let us make the first and easiest of the "hard choices". Eliminate half of the Flag Officers in the United States Navy, with the proviso that the ones who are retained must directly contribute to warfighting, readiness for war, and the mission of the United States Navy, which is "to maintain, train and equip combat-ready Naval forces capable of winning wars, deterring aggression and maintaining freedom of the seas."
Functions in the supporting establishments can be handled by Captains, as they once were.
While we no longer have yardarms on which "Puck" might portray our exceedingly top-heavy Navy, the point remains.
Oh, and the Marine Corps? The number of General Officers is 108. Let's roll that back to 80.

Posted by
UltimaRatioReg
in
Hard Power
,
History
,
Marine Corps
,
Maritime Security
,
Navy
,
Tactics