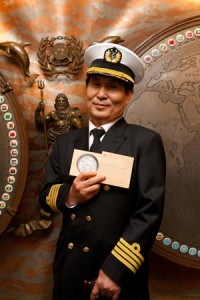 From gCaptain (one of the best Maritime blogs and Facebook feeds out there).
Captain Seog Hae-gyun was confronted not by the elements that nature can throw at men and ships, but an even more insidious danger: that of pirates threatening him, his crew and his ship. In response, he acted with quick thinking, courageously, decisively and with extreme bravery to protect all those whose lives depended on him and his decisions. His selfless reaction left him with severe injuries and nearly cost him his life,
This is one of the more amazing stories I've heard coming out of the international campaign against piracy in the Western Indian Ocean, and This happened nearly a year ago, and this is the first I've heard about it (but it is very comfortable, living under this rock).
Bravo Zulu to Captain Seog Hae-gyun. From the IMO Website
When the Samho Jewelry was boarded by pirates, in January 2011, the crew took cover in the designated citadel but the pirates broke in, detaining them on the bridge. Over two days, Captain Seog steered the ship on a zig-zag course, so that the pirates would not realize that the vessel was actually heading away from, instead of towards, Somali waters. He contaminated the fuel so the engines would not work normally, pretended the steering gear was malfunctioning and slowed the ship's speed from 14 knots to six, to keep her out of Somali waters for as long as possible, thus maximizing the potential for units of the Republic of Korea Navy to attempt a rescue. However, the pirates became suspicious that some of Captain Seog's actions were intended to outwit them and they brutally assaulted him, causing serious fractures to his legs and shoulders.
In keeping with the finest traditions of any Maritime Service…

Posted by
CTR1(SW) H. Lucien Gauthier III
in
Maritime Security
,
Piracy