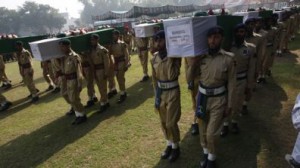 From WAPO.
The paragraph that jumps off the page in the wake of Pakistan's bombast regarding the "unprovoked" Coalition airstrike is this one:
Both sides said they believed they were attacking insurgents along the border. A senior Pakistani defense official acknowledged that Pakistani troops fired first, sending a flare, followed by mortar and machine-gun fire, toward what he said was "suspicious activity" in the brush-covered area below their high-altitude outpost barely 500 yards from the border.
That the Pakistanis so loudly decried the events, and then very fundamentally change the narrative of events should leave us with little confidence in the assertion that the Pakistanis believed they were firing on "insurgents". It seems that the Pakistanis did indeed fire first, as was the Afghan and Coalition assertion in the immediate wake of the incident. I believe it highly probable that the Pakistanis, with their track record of support of the Taliban, Al Qaeda in Afghanistan, the Haqqani network, and the Army's gigantic loss of face with the bin Laden raid, knew very well who their targets were. They were targeting the Coalition efforts along the border, either in support of the insurgents, or on their own. All the "coordination mechanisms" in the world will not stop a deliberate attack.
Pakistan has been caught in a lie. Even if events prove that they indeed misidentified their targets, which strains credibility, the reports of "unprovoked attacks" and "sleeping soldiers" being killed in their beds is a colossal fabrication, and Pakistan knew such was fabrication well before they told those fabrications to the world in order to affix blame. They will cover that fact with loud bluster and threats, flag-burning, and the usual anti-American sentiment. But they have been caught in a gigantic lie, and as the myriad sources of battlefield information are sanitized and released, the world will know it.
Now would be an excellent time for our State Department to say so. Loudly.

Posted by
UltimaRatioReg
in
Air Force
,
Army
,
Aviation
,
Foreign Policy
,
Hard Power
,
History
,
Marine Corps
,
Navy