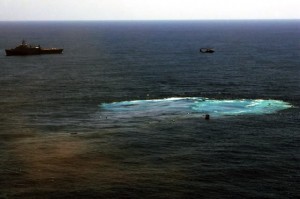 We've seen this movie before; well, some of us have. Those who saw the post-Cold War, post-Desert Storm "peace dividend" era will recognize where we are. Different acronyms and different policies – the but goal is the same. People need to leave. It starts ugly, creates a new normal, then settles out. There are no great ways to reduce manpower in a bad economy – but there are less bad ones.
Are we doing this right – and are we leading from the front to make sure leaders enjoy the same hardships as their Sailors? For those we keep on – are we choosing the right leaders for the right reasons?
I would like to send along a snapshot of what our front-line leaders are having to work with as they tell outstanding Sailors that, even in this economy, soon they will have to make it work without the Navy.
When was the last time you saw a grown man cry in uniform over a non-legal admin issue? It ain't pretty – but behind the PPT; this is what is happening at one major sea command.
Results from the Enlisted Retention Board (ERB) for E4/5: we had 20 of 50 candidates selected for separation.

ERB for E6/7/8: we had 9 of 48 candidates selected for separation. No E7/E8s were separated; all E6.

One was a 16-year first class who cried like a baby when he was told. Wife, two kids, no NJP, no misconduct, solid good Sailor. This comes on the heels of the 46 E4-E5 folks ship-wide we notified two weeks ago.

Some of these Sailors had PRD extensions to make the homeport change and move or moved their families to the new duty station. Not only have our Sailors stood up to meet absurdly inconvenient USN challenges (when would IBM move you, not help you sell your house (now upside down), and expect your wife to do the move alone while you were gone for 6 months), but they did so with the good faith that they had a reciprocal commitment from USN.
Well, they thought they did. They had faith that because they did all they were asked to do – the Navy would stand up to the promises it made verbally and by culture. They have found instead that truth can and will change.
ERB and her automaton sister Perform to Serve (PTS). How are these impacting the relationship between Sailors and their leadership – and the connection between officers and enlisted?
Remember, with PTS no humans are involved in this decision. A computer looks at certain parts of their personnel record and calculates their value to the Navy with an algorithm. Yep, we are letting the computers do all the leading for us. We detach ourselves from the very personal part of leadership; you have to work both the "good & fun" as well has the "difficult but needed" parts of it.

That can quickly develop in to a habit. It is a short walk from "just let a computer tell others the bad news so I don't take the hit," to telling the XO that we shouldn't let anyone on overnight liberty in our next port because no one wants to have to explain to their Sailors why they denies their chit. It's too hard; push the bad news decision to someone else so I can hand out NAMs. And no – I didn't just make that story up. It was sent in an email last week from one of my regulars. Yes; longer deployments with less liberty. That makes a great bumper sticker.
Isn't leadership at its core a personal relationship? People will follow the orders of a superior – but they are led by individuals they honor and trust. The whole PTS/ERB process puts the concept of leadership on its head by the impersonal nature of it all. These Sailors are being fired, and they are being fired without cause…you can't tell them why, just "you're fired." The people who know them best aren't making the call – they are just reporting it.
The decisions are made from afar – yet the leadership challenge comes up close. How do you motivate a Sailor, who deployed 4 months early, who is gone from home for 11 months, who thinks that they are about to be fired and then will be expected to remain at sea for the next 3 months until deployment is over? "You're fired…but you have to stay at sea for the next 3 months and work hard and you can't do any planning for your career change because your internet doesn't work and you can't talk to your wife and kids except on 4 ATT sailorphones. Oh, and we're dumping you in the worst economy since the 1970s. Carry-on."
That is what is happening in the Fleet right now. Not all that different than what we saw with the early 90s Involuntary Release from Active Duty (IRAD), but these are enlisted personnel, not officers.
Going beyond the people affected – back it out a bit. We're already "optimally" manned, right? So when these Sailors leave their commands, the command will get a replacement. After all, while we've cut 3,000 Sailors, so far we haven't changed the manning documents. Who do you think is going to show up as the replacement? Do you think that when you lose your 1st Class – who has all the quals, experience, and technical knowledge they've gained in 14 years of service – you're getting the same thing from BUPERS to replace them? No. You're lucky if you get a 3rd Class with the right NEC's.
So, ships and squadrons that already don't have enough people, now have fewer experienced Sailors as well. It's not a question of how many Airmen or Seamen you push into the command to make the numbers look right. Training and experience matter. The other problem is that you are now cutting back on your mid-grade leadership. You end up with ships and squadrons full of Khaki and 3rd class and below. People who are supposed to be looking at the big picture and worker bees, but nobody in between to connect the two. Is that setting an organization up for success or failure?
A slightly unsettling component of this is that it takes a lot of people out of contention for retirement benefits as they are 4-6 years from retirement, but that isn't one of the goals … is it?
Does the senior leadership have a full understanding of how their decisions are impacting both leadership and Sailors on the deckplates? Do our actions show any empathy with our Sailors and their families? The talking points that were distributed to front line leadership about how to "fire" a Sailor were ridiculously simplistic and next to useless.
Is this really the best way to do this? From the view of the deckplates – are officer and enlisted reductions being done the same way? Well, again – let's look at what was done at the officer level. Fair or not – it is what the enlisted see.
As a point of discussion, look at the Selective Early Retirement (SER) board for URL CAPT and CDR. Who did we "fire," 124 officers? With this economy, even being retirement eligible, people are staying. So, numbers need to go – did they go far enough? Doesn't look like it.
As a result, many LCDR and below are having their screen groups pushed back by years because there are so many CDRs and CAPTs hanging on. I know of a LCDR who was told his first look at O5 was pushed back 2 years, another pushed a year. Odds are that Shipmate will see another slide. Why aren't we thinning the herd of 12-16-yr officers as we are 12-16-yr enlisted?
Here is the pernicious difference between what happened to the officers vs. the enlisted – the officers who do get "fired" all have their 20 years in – they get a check. ERB folks are often ¾ of the way to the pension that now they will never see … unless they can work some reserve time and tread water for a couple decades plus.
For now though, the officers will hit the USAJobs website with a nice paycheck coming in while they tread water. ERB and PTS? Just a chunk of money to chew on until it runs out. BTW – your daughter needs braces and your son turns 16 next year and don't plan on moving to a job with your family in tow – you're $20,000 underwater in your home.
Have we (Navy leadership via BuPers) through our actions and processes institutionally broken faith with our personnel? Is this how a Top 50 Employer acts?
Yes, reductions need to be made – but are we doing it right? Can we clearly look in the face at our deployable forces and those with the most sea duty and say, "We have cut as much of the supporting infrastructure as possible. We have cleared out all the oxygen thieves and professional shore duty billet sponges; we have to go after you."
Do we really have a lean shore infrastructure? (staff and shore BA/NMP, call you office). Have we scrubbed our manning documents correctly? Have we, like the Army and USMC, done a thorough review of our personnel to see who has and has not deployed in the last few years and made people offers they can't refuse? Are we rewarding the right things? Do our actions reflect our words? Does a CDR in DC, or an E4 at Pax River, have the same (or better) chance of promoting over someone on a back-to-back sea tour? Well, let's take another snapshot.
We have been a Navy at war for over a decade. In that time, one of the greater challenges we have had is the Individual Augmentation (IA/GSA) program (AKA NARMY). What have we told people over and over – well, that it will be both rewarding and rewarded. Has it?
Do we reward the warrior – or are we still stuck in a peace-time/Cold War mentality where we don't so much reward tactical and operational performance and effort so much as number of hoops and checked boxes? Do we focus a lot on school time – or actually leading Sailors at sea and forward deployed? Are we promoting combat leaders to run an organization that exists to fight its nation's wars – or are we promoting the fonctionnaire and perpetual student?
Again – let's look at what we are doing with officers. What happened at the last Aviation Major Command Screen Board? Perhaps we will find our answers there as – coming from SG-90 +/-, these officers have spent more than half their career at war. Right?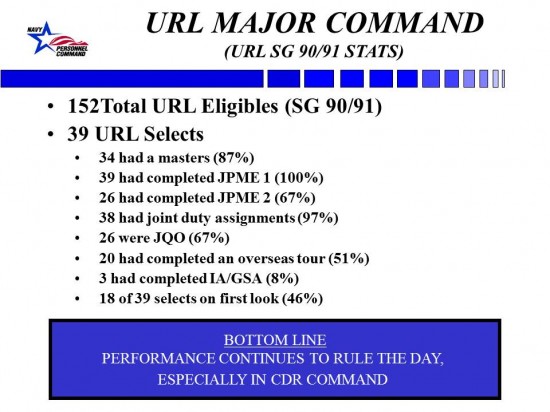 What does this data point tell the warfighter about what our Navy values during wartime?
Overseas duty? A wash.
IA/GSA? Doesn't look like a winner.
Avoid hard duty overseas or a year+ in the dirt with an IA/GSA, or find a way to warm a seat in a classroom or chop PPT slides in a 3-digit J-coded job on a superfluous Staff?
Where do you become a better leader – at sea and deployed – or ashore working on your handicap?
Difficult times require difficult decisions. Are we making those difficult decisions for the right reasons? Do our actions match our words?
As things contract, you have to make sure that your keep the value added, and let the less value added go. That is the only way to, at the end, make sure you have an organization that is in best shape to address the challenges it faces.
What do our actions and manpower shaping tell you about what a smaller Navy will be like? As people have the habit of selecting in their own image – what will we become more and more like as the present conflicts fade? Will this serves us well when, and it is when not if, the next war comes?
---
UPDATE Zacchaeus over at Small Wars Journal does a very good job contextualizing the tradeoffs embedded in the above post. Read about "The Lance Corporal Equivalents" here.

Posted by
CDRSalamander
in
Navy
Tags:
Leadership
,
Personnel