George was a neighbor and friend with a remarkable past. I had lived across the street from George for a number of years, and always enjoyed the times when he would amble across busy Route 5 to talk to me when he'd see me out with the rake or the mower. We'd talk football and a host of other sports. He'd been a magnificent athlete, even as an older man, setting records for his age-group in many track and field events for seniors well into his 70s. He was an icon of the tight-knit community who'd been a high school coach and mentor for more than forty years. Tall and dignified, he had remained in excellent shape until the inevitable ravages of time caught his heels in his mid-80s. Even then, he remained a commanding figure.
Like many his age, George was a Second World War Veteran, serving in the United States Army in New Guinea and New Britain in the South Pacific. (This was the same area my Father served in as an MM2 aboard an LCT.)
What I didn't know, and found out only after quite some time, was that George had been stationed at Schofield Barracks on December 7th, 1941. After a bit of prompting, I was able to get George to relate the story of that morning to me. George had enlisted in the Army upon graduation from Boston University in 1938, where he had lettered three times in football, and twice in track and field. On that fateful Sunday morning, George, then a Sergeant, was scheduled to play football for his regiment, the famous Wolfhounds of the 27th Infantry, against the arch-rival 8th Artillery. He had slept in and decided to skip Sunday mass, and was just getting up to shave at 0750, when he heard the hum of aircraft engines, lots of them, over the runway at Wheeler Field.
Squinting to see in the bright sunshine, George saw the large red roundels on the fuselages of the green-painted aircraft and knew instantly what was about to happen. He described how, because they had stored a substantial amount of ammunition in the Company barracks arms rooms, the various companies of the 27th Infantry were able to quickly bring several .30 caliber machine guns and BARs to bear against the attacking Japanese aircraft. George could hear the rumble of bombs exploding in the fleet anchorage at Pearl Harbor, and see the sky blackened by smoke. However, he would not get a true view of the carnage until a day later, when his company was moving toward fighting positions to defend against the Japanese attack which everyone was sure was imminent. The wrecked airplanes and hangars of Wheeler Field were a harbinger of a scene of even more complete destruction at Ford Island. George described the fleet anchorage as a "shambles", and recalled seeing every battleship sunk, or capsized, with Arizona still burning like a torch.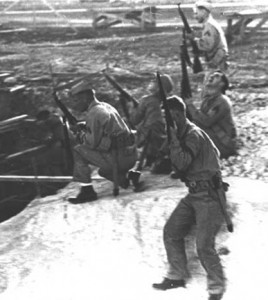 The Japanese invasion never came, of course. The recovery from the attack began, and eventually an uneasy sense of order prevailed. But, as George noted at the end of his tale, every man knew that their lives had changed dramatically, and forever.
George never did get to play that football game against the 8th Artillery. From that day on, everyone was on the same team, and the games were finished.
George eventually received a commission in the US Army, and served in the South Pacific as a Captain and Combat Engineer. After the war, he remained in the National Guard, retiring in 1962 at the rank of Colonel. His vintage "crush hat" is one of my prized possessions. George died in November of 2004, at the age of 89. His funeral was, sadly, held on the same day that news came of the death of an area Marine killed in the Second Battle of Fallujah. I think of George every December 7th, and of the story of his remarkable participation in one of the watershed events in our Nation's history.

Posted by
UltimaRatioReg
in
Air Force
,
Army
,
Aviation
,
Books
,
History
,
Maritime Security
,
Navy