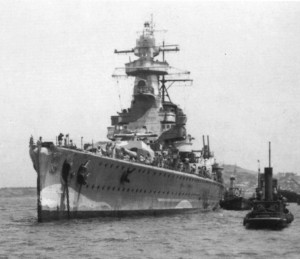 On the warm evening of 17 December 1939, the German panzerschiff KMS Graf Spee glided silently into the shipping channel of the River Plate (Rio de la Plata) at the mouth of the harbor in Montevideo, Uruguay. She cleared the channel at about 1830 local time, and the crowds gathered pierside (and beside their radios in England) assumed she was headed to sea to re-engage Commodore Harwood's HMS Cumberland and two battered light cruisers, Ajax and Achilles.
Graf Spee had haunting connections to the waters in which she found herself. She was named for Admiral Maximillian Graf von Spee, who, with his two sons, and his Sudseegeschwader of cruisers Gneisenau, Scharnhorst, Nurnberg, Leipzig, and Dresden had met their ends off South America in the Battle of the Falkands, a battle that included an eerie parallel to the events of December 1939, and was fought just nine hundred miles from where Graf Spee now sailed, almost exactly twenty five years before.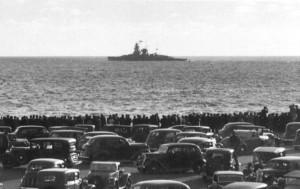 What the crowds who watched the drama didn't know was that Graf Spee was manned by a skeleton crew of officers and senior rates. Her captain, Hans Langsdorff, had made the decision to scuttle his ship. Graf Spee came to a stop at about 2000, when her remaining crew were taken off by tug. Scuttling charges exploded, along with munitions in her magazines, in the fading evening light.
For many, including the leadership of the Third Reich, the move seemed inexplicable, even cowardly. Further examination in the aftermath of events reveals a situation of serious damage to Graf Spee, a touching humanity from her Captain, and a web of British deceit that forced the German Captain's hand.
On 13 December, Graf Spee engaged in a dawn running fight against Harwood's force of HMS Exeter, as well as light cruisers Ajax and Achilles. Graf Spee's six 11-in (28cm) guns wrecked Exeter, and damaged Achilles and Ajax. However, in the exchange Graf Spee was struck no fewer than thirty times. Hits had wrecked her Arado float planes, her foretop rangefinder, and her galley. More importantly, Graf Spee's oil purifier, required for her diesel engines, was damaged by an 8-in hit from Exeter, leaving her with fuel for just twenty hours' operation.
In the wake of the 13 December action, Captain Langsdorff steered for the harbor of Montevideo, in neutral Uruguay. Initially, British diplomats protested that, under the Hague Convention, Graf Spee was limited to 24 hours' stay. Behind the scenes, however, the British Admiralty knew that any force capable of stopping and sinking Graf Spee was several days' steaming away from Montevideo. Another restriction of the Hague Convention prevented a belligerent from putting to sea from a neutral harbor within 24 hours of departure of a merchant vessel of an adversary. While maintaining the public position that Graf Spee was obligated to depart Montevideo as soon as possible, the British instead carefully orchestrated reasons for her to stay. British and French merchantmen staggered departure from the harbor to take advantage of the stipulations of the Convention.
In the mean time, British intelligence spread disinformation that heavy Royal Navy units which included battlecruiser Renown and aircraft carrier Ark Royal, lay over the horizon off Montevideo to intercept Graf Spee. In actuality, any Royal Navy units capable of defeating the German were unable to intercept until the 19th at the earliest. But the rumors were convincing enough for the numerous German agents to faithfully report the information to the German consulate, and to Langsdorff.
Captain Langsdorff, his ship crippled by the damage from the fight on the 13th, believed he was facing a greatly superior force. Graf Spee, even at full strength, was four knots slower than Renown, and her 11-in guns, while with comparable range to Renown's 15-in (38cm) main battery, were markedly inferior in weight of shot and penetration. She certainly was no match for the air contingent aboard Ark Royal.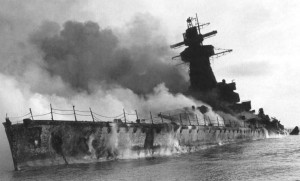 A gentleman warrior who managed to destroy nine merchant vessels at the outbreak of war without the loss of life, Langsdorff chose not to send his ship and his crew to what he believed to be certain death. Instead, Graf Spee is scuttled in the shallow waters of the River Plate estuary. Two days after his ship is destroyed by her own crew, Captain Langsdorff wraps himself in the colors of the Imperial Navy, and takes his own life. His crew is interned, and the thirty-seven dead among his crew buried with honors in a Montevideo cemetery.
Twenty-five years earlier, British cryptanalysts had broken the German Naval code, and had baited a trap for Admiral Maximilian Graf von Spee in the form of generating a fake order to raid the British coaling station at Port Stanley in the Falklands. There, Sturdee's battlecruisers awaited the Sudseegeschwader, overtaking the worn-out German cruisers and sinking them after a short pursuit.
In 1914, the British deception pushed the German warships into a one-sided battle that led to their destruction. In 1939, it was the ruse of that very threat of overwhelming force that caused the self-destruction of the pocket-battleship named for the commander of that 1914 squadron. Twenty-five years and less than a thousand miles away.

Posted by
UltimaRatioReg
in
Aviation
,
Books
,
History
,
Maritime Security
,
Navy