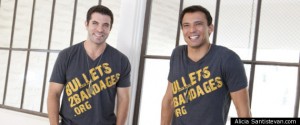 I ate lunch yesterday with my life-coach, Mason. At 87 he's as quick as a whip and a walking encyclopedia of life-knowledge. He's also a Marine. Entrepreneur. Dear friend. He is now and always has been – in magnificent Robert Service fashion – le grand aventurier.
Central to lunch are broad ranging narratives told in an absolutely artful and entertaining way. Mason weaves moralizing stories with life lessons and humor and wisdom and humility. And for me, learning occurs as it did for the ancients and for our American ancestors – by listening and asking questions and being asked questions and by thinking. In this way Mason is the anti-internet. And I sort of love that more than anything else.
(No technology will ever be able to replace the experience of the story told through war-weary eyes.)
Mason and I talked about pretty much everything, as we always do. But near the end, over coffee, we talked about courage.
Mason told me that what we needed so desperately in this country was teamwork. Teamwork in business. Teamwork in our families. Teamwork in our politics. Teamwork in all we do. And I agreed.
"You might not change the world," he said (referring to those of my generation who were willing to exhibit courage and promote teamwork), "but you sure as hell can make a difference."
"What if that difference could indeed inspire change that would affect the world?" I asked, in a Jobbsian tone.
He smiled, as if to tell me that he knew that it could. And then we talked about the importance of the entrepreneur.
All day and into the night I thought about veteran entrepreneurs of the past, like Mason, and I wondered about the veteran entrepreneurs of the present. I thought about how much these men and women sacrificed to defend their country and now continue to sacrifice in starting their companies. And I found that relationship to be an elegant one.
But can the veteran entrepreneur make a difference? Does it promote the social good? Can the veteran entrepreneur make a real difference that can inspire change that can affect the world?
Based on the example of these four Naval Academy graduates and veteran entrepreneurs, I think that it just might…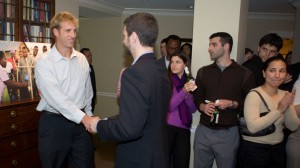 Jake Harriman founded Nuru International, a company dedicated to ending terrorism by eradicating extreme poverty. Jake served in the infantry and Force Recon and was awarded the Bronze Star for valor. After graduating from Stanford's Graduate School of Business, he formed Nuru and has been working tirelessly in East Africa ever since.
Learn about Jake's story here…
Jake's story is inspiring and his message transformative. The work his company does each day educates and saves lives. Nuru is perhaps the most inspiring example of the veteran entrepreneur leveraging courage and teamwork to start a company that truly makes a difference to the world.
But I'm sure Jake would agree that making a difference starts small…
Bullets2Bandages (http://bullets2bandages.org/#) was formed by two of my classmates Erik Spalding and Cole Evans. After leaving the Navy as Explosive Ordnance Disposal (EOD) Officers they launched a company that created a fashionable line of bullet jewelry created from demilitarized bullets and decorative dog tags.
Their vision is to turn an instrument of harm into a symbol of hope and healing.
A dedicated amount of the company's proceeds go to specific programs that directly help our veterans. The Veteran's Village of San Diego and the Travis Manion Foundation (named after our fallen classmate-hero-warrior Travis Manion).
Spalding told the Huffington Post: "I wouldn't be where I am today if it wasn't for the country I grew up in. I've traveled all over the world and the unique thing about America is the opportunities are endless. But with that comes responsibility for those who are successful to reinvest in our country. I wanted to do something for domestic nonprofits. For us to continue to be in this country, we need to reinvest in our country. We were leaders in the military, now we want to be leaders in the civilian sector and create awareness for veterans. It's kind of hard sometimes when you get out. Some people might be physically disabled, and some might have mental issues. A third of all homeless people are veterans. Some are sleeping on the streets tonight and that just doesn't sit right with me. There are all these different challenges of changing into civilian life, and we just want to help along that process and be a leader for that in business."
http://www.huffingtonpost.com/2011/11/11/erik-spalding-and-cole-evans-bullets-2-bandages-veterans_n_1085095.html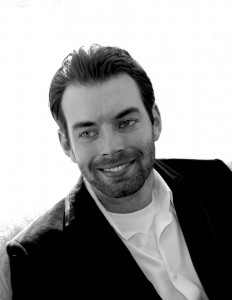 And there are more and more examples out there that I'm hearing about each week. Another classmate of mine, Nick Karnaze (pictured left), has started an incredible company that will bring stabilization solutions to high risk environments…
Nick cofounded The Stabilization Group with Mike Schraft a former USAID Development Officer and Air Force veteran. They are pioneering the use of Expeditionary Stabilization Teams (ESTs) designed to rapidly insert into pre-conflict, conflict, and crisis regions working at the grassroots level utilizing full-spectrum,population centric micro-economic development, capacity building training, civil society and local governance development as means of targeted stabilization. Seems to me like they'll have their hands full as the landscape of the post-9/11 decade will no doubt be one of dangerous uncertainties and complex problems that will no doubt require their sort of business solutions.
http://www.thestabilizationgroup.com/
And I'm aware of other innovative businesses that have launched as well – such as one that will teach veterans how to run for office in order to promote the election of individuals of sound character and proven leadership experience serving this country in war. And there's more. Many more.
Does the veteran entrepreneur promote the social good? Can the veteran entrepreneur make a real difference that can inspire change that can affect the world?
If Cole, Jake, Erik, Nick and others like them are any indicator, the answer is decidedly 'yes' as a new generation of civic minded businessmen are about to make a big bang in corporate America.
And that's a story I know Mason will like to tell.

Posted by
Alexander Martin
in
Marine Corps
,
Navy