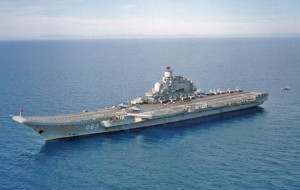 Russia's decision to send its one aircraft carrier and four other warships to Syria doesn't help anyone. While the Russian warships in Tartus, Syria, the only Russian base outside the former Soviet States, unequivocally demonstrates Russia's support for the government, Russia flexing its muscles demonstrates its weakness. The Economist reckons that the U.S. Sixth Fleet alone has more firepower than Russia's Navy.
It's a lose-lose situation for the Russians. A poorly organized group of rebels are not going to be intimidated by the mere presence of some Russian ships. I doubt the Russian Navy would fire on the Syrian protesters, given that they recently failed to intervene when Cyprus blocked weapons and ammunition from entering Syria. If the rebels succeed in overthrowing Bashar Assad's government, Russia would lose its southernmost naval base.
But the Russians won't win even if Assad maintains control. By supporting the ruthless dictator, Russia further alienates itself from the new governments in the Middle East as well as Lebanon, Turkey, and Israel. The U.S. should capitalize on this opportunity.

Posted by
jjames
in
Foreign Policy
,
Soft Power