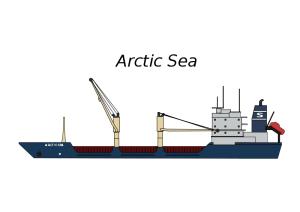 Just when you thought that the ARCTIC SEA piracy story couldn't get any weirder, comes news via Fairplay of an arrest warrent being issued in the case, for the former head of Estonian Intelligence:
The decision to put out an international warrant over the hijacking of the timber carrier Arctic Sea in August 2009 stemmed from Erik Niyles Kross's refusal to answer a Russian summons for questioning in December.

Kross, former head of Estonian intelligence, has been charged with planning and directing the month-long pirate takeover.

Arctic Sea had been under way off Sweden's Baltic coast when nine Russian and Latvian men took the vessel. They were convicted of piracy in Moscow and Arkhangelsk and given stiff prison terms – after reportedly naming Kross as the mastermind.

Estonia's government has said that Russian prosecutors are welcome to interrogate Kross in Talinn. The 4,706dwt ship later found and taken back by the Russian Navy off Cape Verde. – Fairplay
Just why would the former head of Estonian Intelligence want to hijack a ship full of timber? Maybe he's crazy? Given his involvement, maybe there is something to the rumors that the ship was carrying something much more interesting than just timber. I can understand Mr. Kross's refusal to travel to Russia for questioning. However, he can't be feeling much safer sitting in nearby Estonia. I suspect the level of danger he is in depends on what he knows and how embarrassing it is to the Russian Government.
One question I would like answered is just where the 'hijackers' were planning to take the ship. They did not appear to be taking the vessel anyplace when the Russians arrived. Apparently, thanks to Russian threats, the crew is still not talking.
Surely this is not the final chapter.

Posted by
FFry
in
Maritime Security
,
Piracy
Tags:
ARCTIC SEA
,
Estonia
,
Fred
,
Piracy
,
Russia
,
Russian Navy