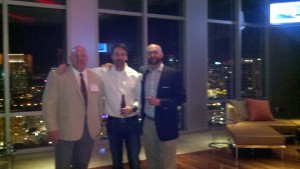 In a new addition to the annual West conference in San Diego, USNI hosted an evening event for its members at the Ultimate Skybox overlooking Petco Park downtown. Made possible primarily by the generosity of Dr. Jack London, a member of the board of directors and longtime member of the Institute, the event was attended by Institute members young and old including a number of active duty officers as well as Undersecretary of the Navy, Robert O. Work, who delivered the Conference's Plenary Address this morning.
Dr. London's generosity also lent an element of style and class to the evening that was above and beyond the convention center feel of the larger conference. But while it is hard to complain about the weather — the low last night was probably around 60 degrees — and the open-air venue offered a beautiful nighttime view of the downtown cityscape from the 15th floor, the real heart of the evening was the company and conversation. While the panels and speakers at West 2012 have been excellent as always, the evening at the Ultimate Skybox stuck out as what the Institute is really about: not big booths or bustling convention center floors but simply facilitating conversations amongst its members, both the retelling of old stories and the sparking of new debates. And by sheer happenstance, Mary Ripley the Institute's Director of Online Content and Media Marketing who makes this blog possible happened to discover than another longtime USNI member, Col. Mitch Rios, USMC (Ret) that just happened to be there that evening was the son of her father the late Col. John Ripley's platoon sergeant in Vietnam.
Here's to hoping that last evening marks a new tradition for the Institute in San Diego.

Posted by
nhughes
in
Naval Institute
Tags:
WEST 2012