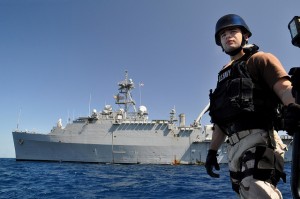 Over the weekend, it was interesting to watch the various outlets report the plans for USS PONCE (LPD-15). The old girl has served her nation well for 41 years and is about to give some more.
I think the best quote to use as a starting point is here;
The Pentagon's new budget proposals, unveiled Thursday, included money to turn a freighter hull into a full-time floating base that could be moved around the world for military operations or humanitarian missions.

But the fiscal year does not begin until October and, to meet a standing request from American military commanders in the Middle East, Pentagon and Navy officials decided to convert the Ponce to serve as a floating base in the meantime.

"This is a longstanding request that, with the opportunity now before us, we are fulfilling," said Capt. John Kirby, the Pentagon spokesman.

… Navy officials acknowledged that they were moving with unusual haste to complete the conversion and send the mothership to the region by early summer.
Longstanding. Yes. The request is:
… the staging base would allow commandos, helicopters, speedboats and even aircraft with a short-takeoff capability to operate in regions where the United States does not have access to installations on land.

While its value as a staging base for combat operations would be a priority, it also could be moved near an area suffering from natural disaster, to provide full logistics for the military to carry out relief missions for a region left without power, food or potable water.
Let that soak in. Read it again. Ponder – hasn't this been a requirement for at least my lifespan? Haven't we had such things before? Yes. Don't we have a lot of platforms easily converted to do such things? Yes. Does it require a big deck to do it? No. Do we have ships already configured as such – yes. Why has it taken so long ……
To simplify things – let's not even look at piracy for now and what the PONCE could bring to that game. In the broader sense, we have been at war with a non-state terrorist group, its affiliates and supporters for over a decade. This is a war that relies to an exceptional extent on Special Operations Forces. This we know.
As a navy at war, what have we "restructured" to support this outside deployment schedules, itty-bits in NECC, NSW, and certain "special" programs? Look back at the infrastructure that supported special operations in Vietnam and the very short turn around time they had from requirement to shadows pierside. This is not new. This is not radical. This does not require a technological breakthrough. Hey – maybe, ahem, that is/was the problem.
An "Afloat Forward Staging Base" or "mothership" is not a new concept. It is not sexy (to the non-professional), it doesn't go real fast, but it does do something – it supports the warfighter and his ability to project power ashore and at sea. It multiplies the effect of smaller, more nimble forces to do their job with endurance and a greater sense of autonomy. MIW – sure. NSW – no problem … etc … but why PONCE now – why late – and why USS now?
Ships matter – ships that have enough "white space" to put in to them what you need, take them where they need to go, and have the endurance to stay long enough to make a difference. Not the too-clever-by-half mission module concept – but the inherent utility of "being there" with room to enable others – and to do so with nuance. The multi-purpose amphib, which the PONCE is – is more than simply an amphib – it has always been so – and will be again.
All the above leads to a simple question: through all the "fat" years in a decade of war with plenty of discussions of the need and utility of a "mothership" to meet the needs of this type of war, we did little. Now that we find ourselves in a shrinking budget, why do we panic like, grab the duct tape, bailing wire, and vice grips and rush out to the pier to coax the old girl to give just some more?
Are we that broken that with all our technology, communications, and armadas of Admirals – we find ourselves with this decision point? Are our priorities so out of whack – our processes so blinkered – our leadership so hidebound – that we find ourselves with this lash-up?
Don't get me wrong – I fully support, encourage, and praise the modification and deployment of PONCE and present/planned follow on AFSB. Many happy returns – but really. This is how we do it?
"This is a longstanding request that, with the opportunity now before us, we are fulfilling … Navy officials acknowledged that they were moving with unusual haste to complete the conversion and send the mothership to the region by early summer.
It's not like there weren't other opportunities to do this to other ships over the last decade.
The interesting story would be – inside the "longstanding" timeline – who held back this decision, why, and what are they doing now? What was holding it back – and what finally broke the seal to let it go forward?
I know, call it an accountability review.
Once we do that – then we can have fun discussion about long range plans for the concept WRT active duty/reserve/CIVMAR/USS/USNS etc. There will be a long range plan right? We wouldn't want to have someone else re-invent this later on will we? We do understand that this is a capability that will be needed for a long time – right? We are planning for the ability to have this "effect" in place longer than one ship's deployment … right?

Posted by
CDRSalamander
in
Hard Power
,
Maritime Security
,
Navy
Tags:
amphibs
,
anti-piracy
,
PONCE
,
SEALS