The above statement is a part of the comments from US Representative Randy Forbes, R-Va, who chairs the House Readiness Subcommittee. He made the remarks in July, but it hardly seems as if things have been on the upswing since.
Stars and Stripes is reporting that USS Essex (LHD-2), flagship of ESG-7, will not be participating in Cobra Gold. Seems, she is broken. That's twice, inside of a year. BEFORE the coming Defense cuts.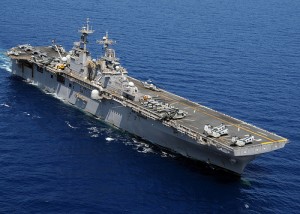 Following the optimistic tone of the USNI/AFCEA West 2012 speakers and panels, VADM Burke, DCNO for Readiness, provides a somewhat less upbeat analysis:
Vice Adm. William Burke, deputy chief of naval operations for fleet readiness and logistics, told the committee that the Navy has "a limited supply of forces."

"When you have these additional deployments, you sometimes impact the maintenance, or you impact the training, which will impact the maintenance," he said. "So what we have is one event cascading into another, so we don't get either of them quite right."
While a TF 76 spokesman attributes the problem to "wear and tear", and declares the 21-year old Essex "no spring chicken", the true cause of the problems are systemic and not mechanical. To wit, Lt Anthony Falvo from 7th Fleet:
Lt. Anthony Falvo, 7th Fleet spokesman, said the Essex may have been impacted by missing maintenance.

"Pacific Fleet ships adhere to rigorous maintenance standards and maintenance periodicities per the Joint Fleet Maintenance Manual and other Navy directives," Falvo wrote in an email to Stars and Stripes. "On any given day we have roughly 40% of our ships underway and we are meeting the requirements of the combatant commanders."
Ya think? The absurdly shortsighted experiment with "optimal manning", the deferring of maintenance because OPTEMPO is too high for the numbers of ships in commission, the idea that we can DO MORE WITH LESS, those are the problems. Wear and tear? It becomes a problem without proper maintenance of subcomponents and systems. "No spring chicken"? Remind me how old the Austins were?
Over on Nate Hughes' excellent post is some significant discussion about the economics of maintaining a Navy and getting the most for the taxpayers' treasure. This ain't it. Some in the Navy or associated with it will tell you that the most "cost effective" course is to decommission and dispose of ships like Essex, even though they will not be replaced one-for-one. This lays bare the absurdity of that notion. The most cost effective course is to properly maintain the vessels in commission, and if capable vessels for their mission, keep them in commission to the end of their expected service lives, or even longer if viable.
Under Secretary Work, tell us again about the National Military Strategy that won't stretch our shrinking resources past the breaking point?
h/t XBRADTC

Posted by
UltimaRatioReg
in
Air Force
,
Army
,
Aviation
,
Coast Guard
,
Foreign Policy
,
History
,
Marine Corps
,
Maritime Security
,
Naval Institute
,
Navy
,
Proceedings