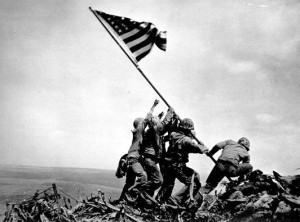 Among the Americans serving on Iwo island, uncommon valor was a common virtue.

-Admiral Chester Nimitz
America lost 6,821 of her sons on Iwo Jima. More than 19,000 were wounded. Twenty-seven Medals of Honor and more than 200 Navy Crosses were awarded for heroism on that island.
Where is USS Michael Strank? USS Franklin Sousley? USS Harlan Bloch?

Posted by
UltimaRatioReg
in
Air Force
,
Army
,
Aviation
,
Books
,
Coast Guard
,
Foreign Policy
,
From our Archive
,
Hard Power
,
History
,
Marine Corps
,
Naval Institute
,
Navy
,
Proceedings