Archive for February, 2012
Last night the U.S. Naval Academy's ship selection night was held in Mahan Auditorium where the future surface warfare officers from the Class of 2012 picked the ship for their first tour as commissioned officers. Setting the stage were Admiral John Harvey's inspirational words about leadership and service in the Navy in every part of the world where "there is no place you will go that is quiet."
Admiral Harvey also commented on the history at the Naval Academy, a place where all midshipmen, wrapped up in getting to the next class or event, will simply walk past some of the most remarkable items in our naval history – the cannons and monuments, the flags taken in battle, the portraits in Memorial Hall and elsewhere. In the course of everyday activities, "we lose the meaning of those faces in paintings, those names on a plaque."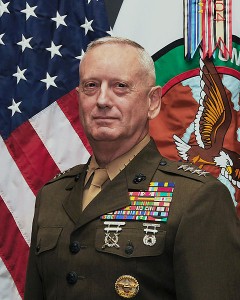 On Monday, General Mattis, Commander, U.S. Central Command, spoke to the Brigade of Midshipmen on leadership.
He began his speech by noting his surprise that anyone would invite him to speak publically after the wrong audience caught wind of some of his previous comments. I admired his ability to laugh at himself. He described how humor had helped him overcome some very non-humorous combat situations, calling humor "a bulletproof vest for the heart."
In his speech, he constantly stressed integrity and resoluteness, labeling those qualities as the main difference between a man and a boy. Fighting an insurgency requires service-members to hold true to their morals when interacting with the local population. Gen. Mattis described one incident where an Iraqi working on a U.S. base in Fallujah was given two grenades by local insurgents. This Iraqi would be paid $300 for each grenade that went off in the compound. The Iraqi did not throw the grenades. Afterwards, he explained to the Marines that the day before, a young Marine stopped some local thugs from beating him up. Gen. Mattis used this example to illustrate how the morally right decision in combat saves lives.
The general also emphasized that units succeed or fail based on the unit's leadership. His comments about the first time stepping out in front of your platoon or division resonated with the soon-to-graduate first-class midshipmen.
One civilian asked Gen. Mattis how he felt about the increasing civilian-military disconnect. He demonstrated the military's improved relationship with the civilian world by contrasting the present relationship with the relationship in 1972, the year he became a Marine. Back then, the military leadership didn't trust the civilian world, and vice-versa. Today, during Congressional hearings, Congressmen always thank military officers for their service, even though they may criticize those military officers during their testimonies.
He kept a surprisingly optimistic outlook on the proposed budget cuts. President Obama's strategic shift towards the Pacific coupled with the $457 billion defense cuts means the Marines will downsize. Gen. Mattis said that while the Marines might do less, they will continue to maintain their high standards in training and in combat. I hope the latter part will be true of all the services.
The above statement is a part of the comments from US Representative Randy Forbes, R-Va, who chairs the House Readiness Subcommittee. He made the remarks in July, but it hardly seems as if things have been on the upswing since.
Stars and Stripes is reporting that USS Essex (LHD-2), flagship of ESG-7, will not be participating in Cobra Gold. Seems, she is broken. That's twice, inside of a year. BEFORE the coming Defense cuts.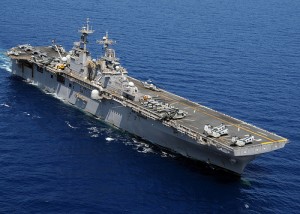 Following the optimistic tone of the USNI/AFCEA West 2012 speakers and panels, VADM Burke, DCNO for Readiness, provides a somewhat less upbeat analysis:
Vice Adm. William Burke, deputy chief of naval operations for fleet readiness and logistics, told the committee that the Navy has "a limited supply of forces."

"When you have these additional deployments, you sometimes impact the maintenance, or you impact the training, which will impact the maintenance," he said. "So what we have is one event cascading into another, so we don't get either of them quite right."
While a TF 76 spokesman attributes the problem to "wear and tear", and declares the 21-year old Essex "no spring chicken", the true cause of the problems are systemic and not mechanical. To wit, Lt Anthony Falvo from 7th Fleet:
Lt. Anthony Falvo, 7th Fleet spokesman, said the Essex may have been impacted by missing maintenance.

"Pacific Fleet ships adhere to rigorous maintenance standards and maintenance periodicities per the Joint Fleet Maintenance Manual and other Navy directives," Falvo wrote in an email to Stars and Stripes. "On any given day we have roughly 40% of our ships underway and we are meeting the requirements of the combatant commanders."
Ya think? The absurdly shortsighted experiment with "optimal manning", the deferring of maintenance because OPTEMPO is too high for the numbers of ships in commission, the idea that we can DO MORE WITH LESS, those are the problems. Wear and tear? It becomes a problem without proper maintenance of subcomponents and systems. "No spring chicken"? Remind me how old the Austins were?
Over on Nate Hughes' excellent post is some significant discussion about the economics of maintaining a Navy and getting the most for the taxpayers' treasure. This ain't it. Some in the Navy or associated with it will tell you that the most "cost effective" course is to decommission and dispose of ships like Essex, even though they will not be replaced one-for-one. This lays bare the absurdity of that notion. The most cost effective course is to properly maintain the vessels in commission, and if capable vessels for their mission, keep them in commission to the end of their expected service lives, or even longer if viable.
Under Secretary Work, tell us again about the National Military Strategy that won't stretch our shrinking resources past the breaking point?
h/t XBRADTC
VADM Richardson posted an interesting blog back on 17 January.
"This is pretty cool. I was recently briefed on the results of our first try at a new way for us to innovate. We held an "event" in San Diego that brought together 27 of our best and brightest Junior Officers, Sonarmen and Fire Control Technicians to participate in what will be the first of many workshops. Submarine Development Squadron TWELVE (DEVRON 12) allied with Johns Hopkins University (JHU) Applied Physics Laboratory and the Submarine Advanced Development Team at NAVSEA, making this a "first of its kind" for the Submarine Force and maybe the Navy."
After my last blog, this seems a pretty good story to follow up with. It's all together far too easy to have the perspective that 'everything's wrong.' What's more is that it is way too easy to only point to things that seem wrong — Only pointing to 'what's wrong' does not lead to innovation.
ADM Harvey's strategic messaging has lately had a heavy dose of how our history demonstrates that we can meet the challenges of today. This example from VADM Richardson is emblematic of that fact. I'll let Admiral Richardson's post speak for itself. But, I think the names of those involved in the TANG Workshop deserve to be mentioned here.
FT1 Don Moreno – USS Bremerton
LTJG John Dubiel – USS Bremerton
FT1 Rich Gunter – USS Charlotte
STS2 Charles Augustine – USS City of Corpus Christi
LTJG Jason Frederick – USS City of Corpus Christi
FT3 Jordan Larry – USS City of Corpus Christi
LT Dan Kohnen – USS Columbus
LTJG Dan Justice – USS Florida
FT1 John Keagle – USS Florida
STS1 Randy Kelly – USS Florida
STS2 Don Grubbe – USS Houston
LTJG Stephen Emerson – USS Houston
FT2 Thaddeus Siongco – USS Houston
LT David Camp – USS Key West
FT3 Glen Elam – USS Key West
STS1 Robert Sarvis – USS Key West
LT Tim Manke – USS New Hampshire
STS1 J.P. Whitney – USS Norfolk
FT1 Brent Caraway – USS San Francisco
LT Eric Dridge – USS San Francisco
STS1 Rich Hering – USS San Francisco
STS2 Chris Remiesiewicz – USS Virginia
FT1 Brandolf Schlieper – USS Virginia
LT Arlo Swallow – USS West Virginia
FT1 Ben Lang – USS West Virginia
STS1 Gabe Brazell – USS West Virginia
STS2 Jake Malone – SLC Det. San Diego
The IDEO Coaching Team:
Peter Macdonald
Dave Blakely
Dan Soltzberg
David Haygood
Newer Entries »