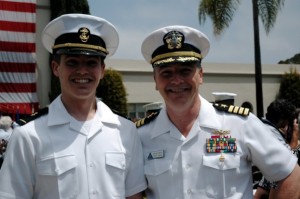 As the sun's rays broke over the top of the eastern hills this morning, the military blogging community was coming to grips with the loss of a truly remarkable man. Retired Navy Captain Carroll LeFon, who was known to thousands by his "nom de blog" of Neptunus Lex, died when his Israeli-built F-21 Kfir single-seat fighter aircraft crashed at NAS Fallon at around 0915 yesterday morning.
The challenge in writing about such a man is that my command of the language to do justice to him is insufficient for the task, yet his mastery of words gave vivid understanding on most everything he chose to chronicle. "Lex" was one of the first and perhaps the best of those military bloggers (milbloggers), with a large and faithful readership that included his former Navy shipmates, other military types (including myself), former military types, and civilians of all descriptions. That readership came and stayed because Lex was far more than a milblogger who wrote about all things military. He had a wonderful gift with the written word, speaking to his readers as if engaged in a conversation at a back table of a favorite pub. His eloquence about military issues, his witty and often brilliant commentary on things political and social, always provided thought provoking reading. His commenters, even while disagreeing and adding rich commentary of their own, respected each other and revered their host.
His post was a daily read for me, and several times a week I would push my chair back from the desk and think (and sometimes say) "Damn! I wish I'd said that!" or "I wish I could write like that!" Lex wrote eloquently of the human condition, both in and out of uniform, and had an appreciation for others who did, as well. We had in common a love of Kipling and the classics of martial poetry and other such works, and I would always smile to read them quoted at some appropriate juncture or situation. His remarkable Rhythms, a superb narrative of a day in the life aboard a CVN, is suitable for publishing. (USNI?)
But Lex did something extraordinary in his missives. In the impersonal world of the internet, he gave us glimpses of himself. His writing brought his readers into his cockpit, where he described in common terms the joys and challenges of flight and what it took to be the exceptional pilot he was. He also wrote incredibly lovingly about his wife and children, his love for them and pride he felt, and the worries he carried as a husband and father. And he managed to do so without intruding into their lives or his, but in a way that allowed us all to share just a little of him.
Lex chose to re-grip the flight controls to serve again the Navy he loved, by doing what had been his passion (outside of his wife and children) for his far too brief time this side of heaven. He helped to train Navy pilots to be better Navy pilots, and accepted the concomitant risks long after his time in uniform ended. The value of men such as he cannot be overestimated. His loss leaves a hole, a void, that never really is filled.
Our thoughts and prayers to his wife, his Navy pilot son, and his lovely daughters. Theirs is a deep grief that cannot be assuaged by the words they will read today and in the coming days. But perhaps, as that grief lessens, they can be warmed with a pride of having been the greatest treasure of such a remarkable man.
Captain Carroll LeFon, United States Navy (Ret.) has stepped into the clearing. Far more than most, he will be missed.

Posted by
UltimaRatioReg
in
Aviation
,
From our Archive
,
Naval Institute
,
Navy