When I first thought about serving my country, I considered the Air Force, but decided I'd rather be in the military instead. My father told me once that in the Army, you'd live like rats and die like gentlemen. In the Navy, you'd live like gentlemen, and die like rats. I rather counted on living, and that has made all the difference.

Quote Yeats to me and you've won my heart…
The guy could write. In three sentences in his first freakin' post he managed to pull up a forgotten truism, allude to the poet Robert Frost and mention Yeats. It's not all grunting and emoting in this world, you know; there is poetry in it, and too few military people admit to being poets. CAPT Lefon was a prose poet. He referenced Guinness and The Hobbit and poetry and classical history. He treated people as equals and kicked the tails of fools. There was a beloved wife, two daughters and a son, a beloved Old Dominion and a San Diego, California house draining him of extra money, his sincere dislike of the night trap. All of these came up in occasional conversation, and would include painfully honest hints–and then a full monty confessional description–of a troubled child on the brink. We remembered that he was once XO of TOPGUN, and that it was one word and all caps. We knew how much he hated being competent in a cubicle, and the joy of being able to escape the rule that "once you retire you never are in full grunt again". We know enough of his family to mourn along with them. Could write, I tell you.
He even linked me every once in a while, inspiring me to better work on my now-defunct blog (I work in a bit of a sensitive field nowadays, thankee–I used to be okay at writing, I suppose). He was gracious when I called him on things (even a defense of Mr. Rogers). I could depend on the man. Lex had an unashamed faith and had beliefs as well. He even has–crap, had–an entirely separate site, the Flight Deck, for people to hang out at the bar and jaw about whatever.
He took care to support and help out newer milbloggers. That support was needed in the 2005-2007 timeframe. I remain firmly convinced that the milblogs were essential to combating information warfare and the narrative of the 2005-2007 Iraq kerfuffle, putting truth out there when untruth was on the airwaves, and providing stories and comments you could not find anywhere else.
And he talked of homecoming. From 2003:
At that moment, everything you have experienced is almost worth it. The moment will not last forever, but it is enough.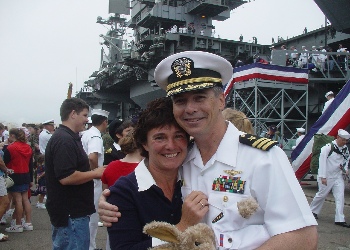 I miss him already. I'm unable to write more; too many deaths close to me hit home this week. He'd like some Yeats. So, some Yeats and thoughts of his family. I don't know if it's a good choice or not–it might hit a little close to home. It's Yeats. He liked Yeats.
TO A CHILD DANCING IN THE WIND

W. B. Yeats (1865-1939)

DANCE there upon the shore;
What need have you to care
For wind or water's roar?
And tumble out your hair
That the salt drops have wet;
Being young you have not known
The fool's triumph, nor yet
Love lost as soon as won,
Nor the best labourer dead
And all the sheaves to bind.
What need have you to dread
The monstrous crying of wind?

***********

More – So much More
At Blackfive:
Subsunk – Godspeed, Lex
Pinch – Lex
McQ – God Speed, CAPT Carroll LeFon (Neptunus Lex)
At USNI:
Chap – Pardon Him, Theodotus: Neptunus Lex: Carroll LeFon
UltimaRatioReg – A Remarkable Man Has Stepped Into the Clearing; Captain Carroll LeFon USN (Ret.) 1960-2012
CDRSalamander – Neptunus Lex: Thank You and Farewell
LCDR Benjamin BJ Armstrong – Laughter-Silvered Wings and Chasing the Shouting Wind
A Note from CEO Pete Daly to the LeFon Family
Susan Katz Keating: Neptunus Lex / Carroll LeFon: 1960-2012
At Argghhh!!!
Bill – There is a Universal Fraternity of Aviators…
The Armorer – We were bloggers once, and young.
The Armorer – Lex doing what Lex did best, and enjoyed the most. Flying
FbL – Hole in Our World
Milblogging – RIP Milblogger Carroll LeFon (aka Lex) of Neptunus Lex
Bouhammer – God Speed to a Warrior and a Milblogger
CDR Salamander – Neptunus Lex – Thank You and Farewell
AW1 Tim – One of our own
Grim – Sic Transit Lex
Steeljawscribe – Ave Atque Vale
Homefront Six – Fair winds and following seas…
Steve (The Woodshed) – Don't Blink
Taco (The SandGram) – Carroll ìLexî LeFon, you are cleared due West
Teresa (Technicalities) – A Story Has Ended
Kanani (Kitchen Dispatch) – RIP Neptunus Lex: One writer pays tribute to another
Jonn (This Ain't Hell) – RIP, Lex
MaryAnn (Soldiers' Angels Germany) – Fair Winds, Lex
Cassandra (Villainous Company) – Lex
The Sniper – RIP Lex
Mark Tempest (EagleSpeak) – Beat the drum slowly
caltechgirl (Not Exactly Rocket Science) – Fair Winds and Following Seas
FbL (Fuzzilicious Thinking) – Captain, Departed & The Hole in Our World
Navy Times – Crash kills pilot who blogged as Neptunus Lex
Soldiers' Angels – Captain "Lex" Lefon
Tailhook Daily Briefing – Neptunus Lex
U.S. Navy Aircraft History – Well, That Sucks
Carmichael's Position – Talk Among Yourselves
K-Dubyah (Little Drops…..) – Mourning…
Boudicca's Voice – Lex
James Joyner (Outside the Beltway) – Captain Carroll LeFon, Neptunus Lex, Killed in Crash
streiff (RedState) – Milblogger Neptunus Lex Killed In Plane Crash
Bookworm (PJ Tatler) – Another Light Went Out : Milblogger Neptunus Lex Died Yesterday
xbradtc (Bring the heat, Bring the Stupid) – RIP- Carroll LeFon ìNeptunus Lexî
ALa (Blonde Sagacity) – In Memoriam: Capt. Carroll LeFon, Ret. a.k.a. Neptunus Lex
Sean (Doc in the Box) – Remembering Captain Carroll, Neptunus Lexî LeFon USN (Ret.) 1960-2012
Bullnav (Op For) – RIP CAPT Carroll Lefon, USN (ret), aka Neptunus Lex
LTC John (Miserable Donuts) – A Milblogger passes on…
DrewM. (Ace) – Captain Carroll "Lex" LeFon (USN, Ret)…RIP
Villainous Company: Lex