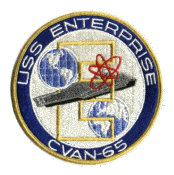 Tomorrow, 11 March 2012, the storied USS Enterprise (CVN-65) will leave home port to ply the world's oceans for the 22nd, and last time. As she is about to head toward Middle Eastern waters, the Associated Press published a nice piece about her, and the challenges that her crew of 4,000 face in keeping a ship that is older than most of their parents operating and ready.
Since SWMBO reminded me how expensive picture books were to print, I figured I would take advantage of this newfangled internet thing to post some pictures of the Big E, and relate some things about her 52 years in service. A good deal of these pictures will come from familiar places, such as NavSource.org, and DANFS, as well as some others included from various spots.
It is staggering to think of a ship 52 years in commission. How long is that? Here are some facts about Enterprise and her history:
The sitting Secretary of the Navy, William B. Franke, whose wife christened CVAN-65, had been born in 1894. He lived to be 85, and still died 33 years ago.
Enterprise's first CO, Captain Vincent P. de Poix, Annapolis '39, had been a World War II aviator, and is still with us at 95!
In February of 1962, Enterprise stood by to assist with the recovery of the first American to orbit the Earth, LtCol John Glenn, USMC, in Mercury 6.
Enterprise was a part of the Second Fleet force that established the "Naval quarantine" of Cuba during the Cuban Missile Crisis, October, 1962.
Enterprise was the first nuclear powered warship ever to operate in a combat zone, off Vietnam, December, 1965.
Enterprise remains the longest warship ever to put to sea at 1,102 feet, 2 inches.
On May 24th, 2011, a Navy F/A-18F Super Hornet of VFA-11 made arrested landing number 400,000 on Enterprise.
When Enterprise joined the fleet in October of 1961, she was one of 24 carriers, and the only nuclear-powered carrier, in a Navy of 870 ships. Today she is one of 11 nuclear-powered carriers in a Navy of 285 ships.
Enterprise deployed to Vietnam six times, Operation SOUTHERN WATCH three times, Operation ENDURING FREEDOM four times (about to be five), and Operation IRAQI FREEDOM three times. Her CO, Captain William Hamilton, was not yet three years old when Enterprise was commissioned, her XO would not be born for another five years.
Best of luck to all the Officers and Sailors who crew this venerable old warship. She carries a glorious name proudly. One day you can tell your grandchildren you sailed on her. When you return, she will pass from the Navy list and into history.
But perhaps her name can live on with CVN-80. There always should be an Enterprise in the US Navy.

Posted by
UltimaRatioReg
in
Aviation
,
Books
,
From our Archive
,
Hard Power
,
History
,
Marine Corps
,
Maritime Security
,
Naval Institute
,
Navy
,
Proceedings