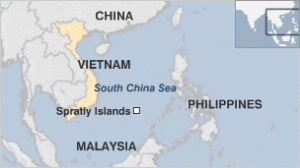 Well, we had to deal with Vietnam's Buddhist monks a few decades ago … I guess now it is China's turn.
Vietnam said earlier this week that six Buddhist monks will soon take up residence on one of the Spratlys. The monks, who reportedly will stay for the next year, belong to the government-sanctioned wing of the Buddhist church.
In all seriousness though, this has all the ingredients; oil, sea lines of communication – and overlapping claims that adds fuel to it all.
…to re-establish abandoned temples on islands that are the subject of a bitter territorial dispute with China.

The temples were last inhabited in 1975, but were recently renovated as part of efforts to assert Vietnamese sovereignty over the Spratly Islands.
…
The monks' delegation is being organised by the local authorities in the southern province of Khanh Hoa, which exercises administrative responsibility for the islands on behalf of Vietnam.

It has also paid for the refurbishment of the island shrines. They include three larger temples and several smaller ones.

The monks have been appointed abbots of the island temples for a six-month period.
…
Along with China and Vietnam, parts of the islands are claimed by the the Philippines, Brunei, Malaysia and Taiwan.
To get the Monks there takes just a boat – to keep them there or to kick them off takes the ability to project naval power ashore.
Is this a provocation? Of course. The billion dollar question is; what national security concern is this of ours? If it isn't, when does it become one, if at all?

Posted by
CDRSalamander
in
Foreign Policy
Tags:
China
,
South China Sea
,
Vietnam