Today Captain Carroll "Lex" LeFon's life was celebrated and honored on the sacred grounds of old Fort Rosecrans in Point Loma, California. The events transcended what is a typical mortal ceremony to honor our fallen; today's ceremony was a deeply powerful afternoon reflective of such a deeply fine man. And Lex was cut from the sort of life-fabric most of us have only read about in our favorite works of adventure-fiction…he was a man full of passion, gusto, emotion, courage, intellect and love and he lived a life complete. He was a devout father, warrior, naval aviator, countryman, and writer. The tragedy of his passing is not made any easier by these truths. And yet there was, today, a certain majesty of the landscape, a certain power of the moment and crispness of the air and righteousness of ceremony that made that sadness not more powerful in despair but more more powerful in redemption: that this man lived as he did. I was in tears from the moment I had my place on the grass among the hundreds that came today to pay their respects. And so was everyone else there to honor this giant of a man.
As I drove away I thought this: how lucky we were to have had a man such as this in this world, brief though his time on station was. And I thought of a short poem often read to me when I was a child that I had thought was long forgotten but wasn't and said to myself out-loud as I descended from Point Loma's hills…
CHARTLESS.
I never saw a moor,
I never saw the sea;
Yet know I how the heather looks,
And what a wave must be.
I never spoke with God,
Nor visited in Heaven;
Yet certain am I of the spot
As if the chart were given.
-E.D.
Rest easy now Lex. We have the watch.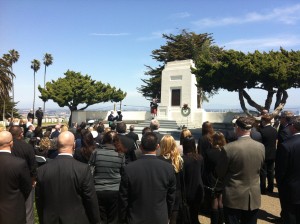 Posted by
Alexander Martin
in
Navy