Archive for March, 2012
Episode 113 "To be Blunt on Afghanistan 03/04 by Midrats on Blog Talk Radio
CDR Salamander writes:
Where is the line between truth, optimism, spin, happy-talk, and lies?

Those of us who have served in Afghanistan and those serving now all have our stories. Our guest this Sunday has a few as well.

"Over the course of 12 months, I covered more than 9,000 miles and talked, traveled and patrolled with troops in Kandahar, Kunar, Ghazni, Khost, Paktika, Kunduz, Balkh, Nangarhar and other provinces.

What I saw bore no resemblance to rosy official statements by U.S. military leaders about conditions on the ground.
…
When it comes to deciding what matters are worth plunging our nation into war and which are not, our senior leaders owe it to the nation and to the uniformed members to be candid — graphically, if necessary — in telling them what's at stake and how expensive potential success is likely to be. U.S. citizens and their elected representatives can decide if the risk to blood and treasure is worth it.

Likewise when having to decide whether to continue a war, alter its aims or to close off a campaign that cannot be won at an acceptable price, our senior leaders have an obligation to tell Congress and American people the unvarnished truth and let the people decide what course of action to choose. That is the very essence of civilian control of the military. The American people deserve better than what they've gotten from their senior uniformed leaders over the last number of years. Simply telling the truth would be a good start. "

Using his article in Armed Forces Journal; Truth, Lies, and Afghanistan as a starting point – our guest for the full hour will be Lieutenant Colonel Daniel Davis, US Army.
For those of us who served in earlier wars this might bring back some memories. And the common warrior question: "What is ground truth?"
Join us live at 5pm here or download the show later from the same location or iTunes.
Every now and then I get a chance to reach escape velocity from my day job and do something really fun or different. Recently that entailed presenting a BMD overview to a couple of classes that were part of the Naval War College's Non-Resident Seminar program (of which YHS is a graduate). And like any good presenter these days, one needs a brief – so, ecce: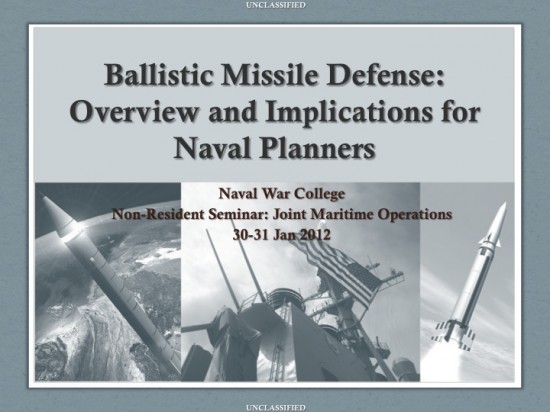 Oh, and yes, I do my own graphics –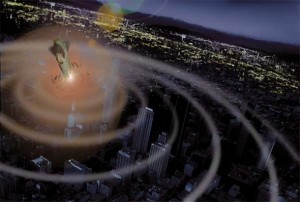 The January 2012 issue of Proceedings Magazine contained an excellent article from Dr. Norman Friedman ("A Different Kind of Blast", pg. 88-89) referencing the May 2011 testing of a cruise missile containing a Counter-Electronics High Microwave power (CHAMP) warhead. As Dr. Friedman explains, high-power microwave (HPM) is a short-range and non-nuclear alternative to Electromagnetic Pulse (EMP), something which the US Military is becoming reacquainted with after a post-Cold War hiatus.
Dr. Friedman goes on to explain the differences between those two phenomena and that of electronic jamming:
EMP and HPM differ from electronic jamming in that they operate at much higher power and across a broad frequency spectrum; their users do not need intimate knowledge of how their targets function in order to disable them.
The applicability of this weapon in beginning to reduce the Anti-Access/Area Denial (A2/AD) threat, and thereby helping to enable Operational Access, is potentially very interesting. Among the chief concerns to strategic and operational planners is the proliferation of anti-ship ballistic and cruise missiles, the latter in supersonic and hypersonic form, which are likely to saturate US Navy missile defenses with lethal warheads, even a small number of which would cause significant damage. This is not a new paradigm, as any Destroyer sailor on the Okinawa picket line in 1945 could attest.
However, with a weapon such as the CHAMP warhead, which by all reports is a more or less directional weapon, the ability to much more effectively and efficiently eliminate the targeting radars of air defense and anti-ship missile systems we would likely find in an A2/AD environment may be realized.
Previous discussions as to how to counter such numerous systems had centered around destruction with kinetic warheads, or disruption with "cyber" (there's that word again) disruptions. The first is likely beyond the reach of current capabilities. Hardened and concealed positions will require precise, complete targeting and a prolific expenditure of munitions into areas where collateral damage may be considerable. The second, the "cyber" option, assumes a level of networking that most of our adversaries have not achieved, and with known and assumed US capabilities, something that is often purposely avoided. Indeed, a good deal of the air defense and anti-ship radars operate on purpose-built and relatively closed-loop networks, making intrusion into those networks a doubtful prospect.
Rather than destruction with kinetic munitions, or through disruption/intrusion, CHAMP/HPM offers the ability to blind those systems by burning out the processors and microprocessors of their operating equipment.
The recently-published Joint Operational Access Concept (JOAC) has a number of key imperatives that would be greatly enhanced by such capabilities that a directional HPM weapon can provide:
Prepare the operational area in advance to facilitate access.
Exploit advantages in one or more domains to disrupt enemy anti-access/area-denial capabilities in others.
Disrupt enemy reconnaissance and surveillance efforts while protecting friendly efforts.
Create pockets or corridors of local domain superiority to penetrate the enemy's defenses and maintain them as required to accomplish the mission.
Attack enemy Anti-Access/Area-Denial defenses in depth rather than rolling back those defenses from the perimeter.
While I am always hesitant to employ the overused and hackneyed term "game-changer", it would appear that countermeasures to something like CHAMP may be difficult to develop and expensive. The technology required to produce the HPM-protection equivalent of a "Faraday Cage" may be beyond many countries and non-state actors to develop and employ. The result of such limitations may render the A2/AD systems of smaller adversaries vulnerable to US capabilities. Such may also significantly reduce the number of effective nodes of near-peer adversaries, who will have to choose which of the critical A2/AD systems they wish to make survivable.
As with every emerging capability, we need to be aware of the effects of such weapons on our own weapons systems and information/operating networks. We aren't the only ones developing such systems. The back-and-forth of measures and counter-measures will be the future of such development. With the widespread industrial espionage capabilities attributed to some of our adversaries, their development cycle will be foreshortened by the ability to steal information and technical data.
The myriad challenges of Anti-Access and Area Denial environments will require continued development and experimentation with equipment. technology, and doctrine. However, the capability of a directional HPM weapon such as CHAMP provides a potential key to one of the A2/AD challenges that has increasingly become the focus of those thinking Operational Access.
Newer Entries »