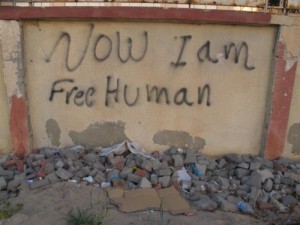 MIT has become my go-to publication for understanding how new models of conflicts are emerging. I highly recommend their latest article on events last year in Libya.
Motivated individuals were able to lend support and comfort to the rebels in Libya during the conflict. From giving instructions on first aid, to providing bandwidth and archiving services for the rebels messaging and other things, 'civilians' from Europe and elsewhere were able to support the rebels.
The phrase I find most interesting in the article is that the conflict was "fought with global brains, NATO brawn, and Libyan blood." On this side of the pond, a lot of ink has been spilled for how the approach utilized by the Allies is a new model for conflict intervention. While I see that as certainly being a possibility, the conflict model for Libya writ large (encompassing much more than just NATO's role in Libya) is much more likely to become the archetype for contemporary conflicts.
There are a lot of implications for civilians being able to personally intervene in conflicts:
Are such motivated (could we term them super-empowered?) individuals still considered non-combatants in a conflict if they give support or aid to a side in a conflict?
Does a civilian's actions towards supporting a side in a conflict make them a legitimate military target by the opposing side?
What is the threshold to where a nation is no longer neutral in a conflict because their citizens are directly supporting a side in a conflict?
Lastly, there is an increasing sense that the Westphalian notion of nation-states is being challenged by the ability for individuals to act globally. Generally, this has been characterized in economic terms. However, it now seems that nations are additionally losing their exclusivity on conflict intervention. New organizational paradigms seem to be emerging, where definition by citizenship is at best the penultimate criteria used by an individual for self identification.

Posted by
CTR1(SW) H. Lucien Gauthier III
in
Foreign Policy
,
Soft Power