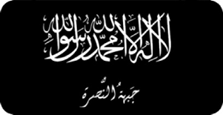 …is still very likely my enemy. The Associated Press, via WAPO, tells us that US intelligence sources think it likely that Al Qaeda is now in Syria, taking advantage of the strife. This little surmise should surprise nobody, and serve as yet another data point for the assertion that Al Qaeda is subsuming the "Arab Spring" and bringing rise to Islamists and Islamist-dominated governments across the Middle East and northern Africa.
A curious comment from SECDEF Leon Panetta:
"Frankly we need to continue to do everything we can to determine what kind of influence they're trying to exert there," Panetta said.
We do? After eleven years of war, and AQ migration to Egypt, Libya, Yemen, and Somalia, we need to determine what kind of influence they're trying to assert? Seems we have a pretty good idea already. (Before the shrieks that MB is not AQ, those two organizations are tightly linked both philosophically and physically. The success of one is the success of the other.)
White House Press Secretary Jay Carney informs:
"We do not believe this kind of attack that you saw in Damascus is representative of the opposition," Carney said. "There are clearly extremist elements in Syria, as we have said all along, who are trying to take advantage of the chaos in that country — chaos brought about by Assad's brutal assault on his own people."
CJCS General Dempsey echoes Carney, in a Fox News piece:
"We do know that there have been extremist elements that are trying to make inroads in Syria," he said. "That is to be distinct from the opposition. I'm not tying those together."
But, as the Fox article asserts, sometimes the line between them is unclear. It will get increasingly blurred. The Al Nusrah Front is an Al Qaeda affiliate, merging with AQ similarly to how Al Shabaab in Somalia has done.
Perhaps at this juncture such attacks as the bombings in Damascus are not representative, but soon they will be. Al Qaeda will increase its influence and quickly push genuine opposition to Assad's regime aside, and pave the way yet again for hard-line Islamists to firmly grip the levers of power. As they have done successfully in Egypt, and in Libya, and Tunisia, and are attempting in Yemen and Morocco.
Kudos to the Obama Administration for not rushing willy-nilly to provide weapons and support for the Syrian opposition. Even if they had started out as a viable counter to a repressive anti-Western dictatorship, the interjection (welcome or not, see: Al Shabaab) of Al Qaeda and the Islamic extremists into the vacuum of instability would quickly make such support an exceedingly ill-advised policy. +1
However, the President's recent declaration of the demise of Al Qaeda and the end of the War on Terror (whatever one thinks of the name) is equally ill-advised, and does not reflect a realistic understanding of our enemies and their continued relevance in the Muslim world. At the very least, someone should have included a resilient, networked, and elusive enemy on the distribution list of the memo ending the GWOT. -1
In addition, there is the Administration's abject refusal to name our enemies for what they are, Islamic Extremists, bent on the destruction of Israel and subjugation of the West. Recent publicity surrounding what was reported to be an anti-Islamic course of study by the Joint Forces Staff College will cause further reluctance to publicly identify our enemies, adding to the loss of focus and dissipation of the efforts to defeat an enemy that has vowed a multi-generational struggle against us. -2

Posted by
UltimaRatioReg
in
Air Force
,
Army
,
Books
,
Foreign Policy
,
Hard Power
,
History
,
Homeland Security
,
Marine Corps
,
Maritime Security
,
Naval Institute
,
Navy