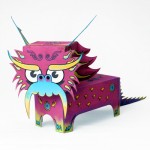 To do a complete stoplight review of China's Diplomatic, Information, Military, and Economic levers/influencers of national power is much more than one post on a blog, but you can broad-brush a few things.
In the last couple of decades, China's "Diplomatic" and "Military" areas are a solid green with up-arrows. Though I would give "Information" a yellow with an up arrow, I will give a nod to those who would give the Communists a green.
Economic? That is a lot trickier than people think. I lean towards the demographic-wonk mantra, "China will get old before they get rich," – but if you want a good look at another view on China's "Economic" that you won't get from Thomas Friedman, a nice primmer would be Reihan Salam's latest at NR.
Without a sound economy … the dragon may not be as large or as scary, as some think – but it may be more dangerous for other reasons.
… across a wide range of economic, technological, and military indicators, the United States is actually, in the words of political scientist Michael Beckley, "wealthier, more innovative, and more militarily powerful compared to China than it was in 1991." As Beckley explains in a recent article in International Security, China's growth in per capita income, value added in high technology, and military spending is impressive primarily because China is starting from such a low base. That the United States has continued to grow across all of these dimensions is making it exceedingly difficult for China to catch up. Beckley thus concludes that China is "rising in place." That is, while China is improving its economic and military position in absolute terms, it is stagnating relative to America, even in an era of sluggish U.S. growth.
…
While we can expect China at some point to have an economy somewhat larger than that of the United States — after all, China has four times our population — the country is plagued by pervasive corruption and bad debts that are already undermining its growth prospects.
…
China's population is aging rapidly, and soon the country will have to carry the weight of tens and eventually hundreds of millions of retirees. … China's growth is already slowing as a result. Since 2001, China has grown at an annual rate of 10.1 percent. This year, however, Chinese GDP is expected to grow at 7.5 percent. Further, the official statistics almost certainly conceal the extent of the decline.
…
The real threat from China is not that it will grow so economically strong that it will bestride the world like a colossus. Rather, it is that it will become so weak and vulnerable as to collapse, or to lash out at its neighbors.
When you build the next military – do you ponder how to deal with a near competitor in 25-years, or how to handle the violent collapse of a nation 4-times your size in 25-years? How would they look different, and how do you hedge one outcome vs the other?

Posted by
CDRSalamander
in
Foreign Policy
,
Hard Power
Tags:
China
,
Economics