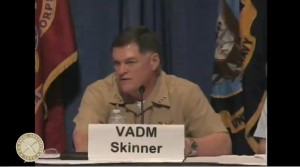 I rarely ask questions at the Naval Institute conference events I attend. I usually let my USNI blogging partner Lucien Gauthier do the Q&As because as a brilliant enlisted sailor who introduces himself at part of the NATO Stratcom office in uniform, he usually has everyone on any panel sit up and focus as he asks a good question.
But because Lucien wasn't asking a question to this panel and acquisition topics are more along the discussions I tend to have over at my home blog, you can see my question starting at about 1:00:00 into the discussion on this video. If you want to know what VADM Skinner said in response to my question, then you need to quit missing meetings at US Naval Institute Conferences and show up next time, but with that said – the point by Dr. Eric Labs on quality vs quantity is really good – and if you watch the video the next question is sort of a follow up to my own question, and after VADM Parker USCG addresses the follow up question, VADM Skinner gives very interesting answers that are not edited out – and are worth hearing.
It really wasn't my intention to put the Admiral on the spot like that, but I think the question on requirements process is important, and I also feel it is important to challenge the assumptions within the process to insure requirements don't get out of hand on shipbuilding.
I am left thinking about these things following this exchange and the themes of USNI Joint Warfighter 2012 as it relates to acquisition and technologies:
1) Will the DDG-51 Flight III, after any possible HM&E adjustments and with a much bigger radar, have the flexibility and adaptability to be relevant for the expected life cycle of the ship making the quantity vs quality cost argument valid?
2) If we ignore how the entire story of AEGIS and attribute that story to the Ticonderoga class completely, we can legitimately suggest that the first year of the Arleigh Burke class destroyer was in 1980 when the US Navy initiated a design study competition between 7 contractors. The Navy took what was a mostly mature combat system by that time and issued the contract to Bath Iron Works for DDG-51 on April 3, 1985. The ship was commissioned in 1991 and the first in class USS Arleigh Burke (DDG-51) was sent on her first deployment in 1993, despite numerous problems typical of any first in class ship. Basically, it took 13 years to go from first contract to first deployment with the Arleigh Burke class, and I think that's valid even though I do realize the combat system development dates back much further and the Arleigh Burke was the first ship to be built specific to a combat system.
For the USS Freedom (LCS 1), the Navy was able to use R&D funding to shorten the time of developing a new warship with first design contract for LCS issued in 2003, commissioning of LCS1 in 2008, and first deployment in 2010. That process, while too ugly for some people to stomach, cut the development cycle of a Navy ship to 7 years – the fastest development cycle in peacetime for any Navy ship over 2000 tons since World War II. If the Navy wants faster development cycles for ships, they need to learn to like programs that look very ugly in public, because innovation includes failures along the way, and failures will be public in the information age.
3) If you want to be adaptable to the speed of change with acquisition, then the requirements process needs to reflect that, and VADM Skinner was exactly right in his opening comments (see the video in the entirety to view his comments) when he discussed the "necessity to establish requirements with clarity," which is the comment that drove my question. A theme of Joint Warfighter 2012 was the necessity for future combat platforms to have space and flexibility – and to use that space to ensure that every new platform can be agile in an environment of rapidly changing technology, because it is technology where the United States military has superiority today. The training piece of how to use new technology should be more difficult than the acquisition of adjusting and reusing flexible platforms, and in some cases already is. VADM Parker discussed this in regards to the USCG when he noted that almost every Cutter not built in the last few years performs a mission it was never designed to perform. My impression is the training and flexibility of the US Coast Guard, which as an organization is small enough to be agile when leaders are agile, is how those systems remain relevant to modern threats.
4) VADM Skinner finished the panel session by discussing how how oversight has run amok – that there is too much oversight in the requirements process. That is an interesting statement, because on the same day he is saying that, an article in Defense Daily by Mike McCarthy came out and said:
Language in the defense policy bill currently before the House of Representatives that calls for an investigation into cracking and other problems on the first Littoral Combat Ship (LCS) addresses old issues that have already been resolved, the Navy says.

Navy acquisition chief Sean Stackley sent a letter this week to a House supporter of the LCS program, Rep. Roscoe Bartlett (R-Md.), saying a section in the fiscal 2013 National Defense Authorization Act would offer "little insight" to the current state of the class.

"While the Navy certainly welcomes recommendations and will fully support added oversight regarding its ship design, build and test processes, I share your concern that Section 129…reverts back to issues identified and corrected early in the program and will add little insight regarded the progress and current status of the program," Stackley said in the May 15 letter.
This is a great example of oversight run amok, Congress investigating a problem that was identified, discussed, repaired, and had the lessons learned passed back to the shipbuilder – LAST YEAR. And while VADM Skinner is highlighting how added layers of oversight can be disorganized and in many ways not beneficial to programs, his boss Sean Stackley is basically in a position where he is being forced to say he will "fully support added oversight" even though it's pretty obvious to any informed taxpayer that this specific oversight is simply another layer of political and bureaucratic busy work with no purpose. There is way too much 'after the fact' oversight and in my opinion, there appears to be ineffective oversight in front of these programs.
Congress is currently representing a classic example of being part of the problem and not part of the solution, and this issue with LCS is a great example. If Congress would turn their goggles around and quit worrying about past problems, because everyone on the planet knows Congress is going to support the Navy buying more Littoral Combat Ships – Congress needs to make their role getting ahead of problems. When elected officials exercise their responsibility of oversight by being armchair historians of problems, it helps no one. But looking forward, Congress should be – with the FY13 NDAA (H.R. 4310) – looking at the mission modules, the impacts including costs of having to develop software integration for two combat systems to work with the various payload systems for LCS, and most importantly the future manning and maintenance plans for the Littoral Combat Ship – particularly since the Navy plans to use overseas home ports for the ship. If Congress wants the GAO to go back and look at something related to the LCS program and figure out how we got here, take a look at something that has impacts to future programs like the requirements process – and have the GAO explain how the Navy got the cost estimates so completely wrong and added a requirement for speed instead of endurance for a vessel intended to conduct presence operations overseas.
That's important, because quite honestly if someone – and maybe it should be Congress – doesn't get ahead of this DDG-51 Flight III concept, we could be in real trouble. I completely get that a new design would be expensive, but it's going to cost the United States a hell of a lot more if the DDG-51 Flight III is unable to remain combat relevant throughout it's life cycle – and I have to be blunt, it's nearly impossible for that case to be made credibly by the Navy. The Navy is taking a smaller AMDR radar than they actually want for DDG-51 Flight IIIs and leaving the ship with no room for growth. If the Flight III is funded for 10 years – starting in FY18 – that means DDG-51s purchased in FY28, fielded in 2033 and serving 40 years to 2073 will remain combat credible. That's intellectually insulting. Not a single vessel – NOT ANY SHIP OF ANY NATION – built during World War I was combat credible in World War II.
How am I supposed to believe the Navy requirements process – that apparently has too much oversight, and has concluded DDG-51 Flight IIIs at age 20, despite no margins for growth, will be combat credible in 2050 – is a requirements process that isn't at minimum flawed and potentially altogether ineffective? In my opinion, the requirements process is broken, but I also find myself in complete agreement with VADM Skinner – the oversight process in acquisition is broken too.

Posted by
galrahn
in
Naval Institute
,
Navy