Over at Information Dissemination, there is a very telling post of a Q&A with Mike Petters, President and CEO of Huntington Ingalls Industries. Cruise on over, it is well worth the read.
Mr. Petters has been a panelist at several shipbuilding sessions at USNI West in the last several years, and always provides an invaluable and informed opinion on our nation's ability to produce warships. His basic point is that shipbuilding is a "use it or lose it" proposition, a similar message to what he delivered at West 2012 and previous panel sessions. Also of note is his very pertinent assertion that shipbuilding, because of the complexity and long lead time to produce, must be anticipatory and not reactive.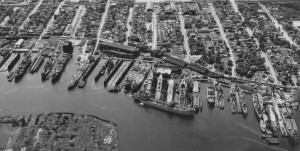 History, as one might expect, bears out Mr. Petters' assertion. The mighty United States Navy of 1944 and 45 had its origins long before the Japanese attack on the US Pacific Fleet at Pearl Harbor. Indeed, ten of the 24 Essex-class CVs had been ordered, and two laid down, prior to 7 December 1941. More than half of the 96 Benson/Gleaves DDs, and a number of the ubiquitous Fletchers, had been laid down by that date as well, as had a number of heavy and light cruisers, on the heels of the New Orleans-class CAs commissioned in the late 1930s. The three Yorktowns were brand new. The battleships North Carolina and Washington were nearing completion. The South Dakotas were laid down, and work was proceeding on all three. In short, when the demands of a two-ocean global war prompted the building of warships, auxiliaries, merchantmen, submarines, oilers, transports, and smaller vessels of all types, the United States had a running start.
Today, with just Huntington-Ingalls and General Dynamics, we are at a dead stop.
Mr. Petters also points to an immutable truth in all manufacturing, large and small; the great advantages of serial production. The interruption, the delay, the reduction of orders below the point of profitability have a cataclysmic effect on retaining a work force in sufficient numbers, and with the requisite long-lead skill sets that shipbuilding demands. Constant fiddling with the 30-year shipbuilding plan is a major problem for shipbuilders, and for their suppliers.
What is called for, he very rightly points out, is a long-range Navy strategy, one that is more than just bullet phrases with a thin and shrinking capability to accomplish even some of what that strategy calls for. From where I sit, I couldn't agree more. In this year's West 2012 Conference, I asked two questions of the Naval Officers on the shipbuilding panel. What is the size of the Navy required to execute the new Maritime Strategy? And what is the high-low mix? Both answers were largely the same. "We don't know".
For the sake of what is left of our shipbuilding capability, that answer is not acceptable. The security of the United States as a maritime nation depends on it.
As a historical aside, sixty-eight years ago today, preparations were being made for the landing of 130,000 men on a defended shore, from a force of more than a thousand ships, against a determined and skilled enemy. Power projection from the sea in a decisive battle. The landings I mention are those which were to be made on Saipan ten days later, on 15 June 1944.
Simultaneously, on the other side of the world this very night, half a million men were en route across the stormy and rain-swept English Channel, borne in 3,000 ships, to land on the coast of France and crack the walls of Festung Europa. D-Day, the invasion of occupied Europe, was about to begin.
Five years earlier, not one in ten of those ships which carried all those men and supplies, existed. We were, then, the "Arsenal of Democracy", and our industrial might saved the world from German and Japanese tyranny. If we had to be so again, even on a much smaller scale, Mr. Petters' question is a good one. "How long would it take?"

Posted by
UltimaRatioReg
in
Air Force
,
Army
,
Aviation
,
History
,
Marine Corps
,
Maritime Security
,
Merchant Marine
,
Naval Institute
,
Navy