It is comfortable to say, "We are 5-10 yrs behind the Europeans when it comes to our budget challenges." – I guess.
With the expansion of the budget deficit of the last few years and no move to make a serious effort to fix it, we are much closer to 5 years, if not inside that mark.
The now quaint Fleet number of 313 of just a few years ago was never taken seriously by anyone with a basic understanding of economics even before the latest budget issues, and the interesting accounting of the Fleet of 300 that we see today is also a non-starter.
Why make such a negative statement? Simple – budgetary gravity.
Back in 2008, European military budgets were sad in any event as a % of GDP. As demographics join with the inevitable default of the Western welfare state takes place in front of us, after a few years – we have this via our friends from DefenseNews.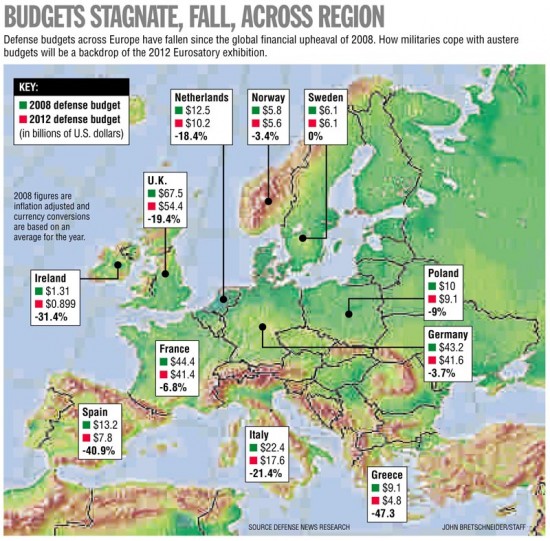 Make no mistake – we have not even started to align our budget with reality, so what is the benchmark that we should plan for? Don't turn away – defense is always the low hanging fruit.
Well – you can break these reduction in to three batches.
1. Doable at 5% or less: Norway, Sweden, or Germany.
1.a. Odds: minimal.
1.b. Reason for odds: We won't be this lucky. Norway has averaged a budget surplus for over a dozen years; different planet. Sweden and Germany already made structural changes to their government systems – Sweden in the 1990s and Germany a little more than a decade ago. As a result – the budgetary stress on the defense budget is small to non-existent from the 2008 baseline. If we act soon to address larger budgetary issues though, odds of this taking place increase.
2. Painful but workable at 5% to 20%: yes, in order to protect the economic foundation that national survival requires – a 20% cut is workable. Netherlands, UK, Poland & France.
2.a. Odds: most likely.
2.b. Reason for odds: unlike Europe, we don't have anyone we trust that we can point to and say, "Oh, they'll take care of the international order." These are serious nations with a serious dedication to military requirements – but they are doing what they feel them must – as shall we. Unlike those nations though, we still have a lot of inertia to maintain a global reach; close to 5% than 20% if we are lucky. More than 20% in the face of a climbing China is just hard to fathom for the USA unless ….
3. Budgetary POMageddon at 20% to 50%: if you wait too long to act on your structural budgetary challenges – the more difficult the fix. You will take on more national security risk in order to try to keep domestic tranquility. Italy, Spain, Greece, & Ireland.
3.a. Odds: small, but not minimal.
3.b. Reason for odds: Without a two-party consensus to make such a huge cut in defense, it is hard to see larger than 20% in the next half decade outside of a complete economic meltdown. With each year we delay having a budget (Senate over 1,130 days without a budget plan) and/or a view to a plan to fix present trends, the more the odds for this option grow.
So, what could POMageddon mean to the Navy? Well – let's go to Group 3 above – Italy. Again from our friends at DefenseNews;
Italy is considering selling or donating up to one-third of its naval fleet in a bid to earn quick cash and slash maintenance costs.

The Italian Navy would be the first off the mark wit a plan to sell or donate up to 28 vessels over the next five or six years … (out of) 82 ships and six submarines. …
So, 28 out of 88 ~ 32%.
Let's run with the fuzzy 300 ships. A 32% reduction would be a cut of 96 ships to a fleet of 204.
What was my worse case scenario a couple of years ago, 240? That would be a 20% reduction in five years. All of a sudden, doesn't look all that out of control … if you consider what has happened to Europe.
Let's be optimistic and cut that in half to a 10% reduction. 270 ships in 5-years. Let's model and plan for that and consign 300 ships with 313 ships as they hang out with all those TQL books in the storage room.

Posted by
CDRSalamander
in
Navy
Tags:
Defense Budget
,
Economics
,
Europe
,
Shipbuilding