This is the second installment in my series of posts on William Sims and what his discovery and development of continuous aim fire a century ago can tell us about junior leaders and innovation. They are part of the remarks that I delivered at NWDC's Junior Leader Innovation Symposium.

PREVIOUS: A Junior Officer and a Discovery.
Recently Jonah Lehrer, a writer for Wired and other magazines, wrote a book about the developing field of science that studies creativity and innovation titled Imagine: How Creativity Works. In his book, Lehrer tells us that researchers have "discovered that the ability to stick with it – the technical name for this trait is grit – is one of the most important predictors of success." Whether talking about Bob Dylan taking years to get a song just right in order for it to become a classic, or J.K. Rowling sending her kids book about a wizard school to 12 publishers before it was accepted and we all got to read Harry Potter, that tenacity, never-give-up, never-say-die attitude is necessary for true creative or innovative success.
Lieutenant William Sims had plenty of grit. Even though he had heard nothing from Washington he continued to write reports to the Bureau, updating his findings, refining the techniques, and suggesting new tactics that could be developed. He still heard no response. Sims knew what was happening…he knew that the Bureau was ignoring him because he was simply a Lieutenant, and one that was deployed at that. He wasn't even an expert on the Bureau's staff. Sims wrote to a friend and fellow officer: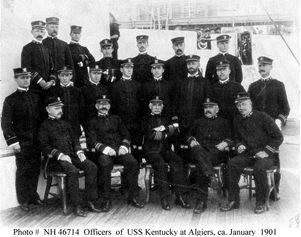 "With every fibre of my being I loathe indirection and shiftiness, and where it occurs in high place, and is used to save face at the expense of the vital interests of our great service (in which silly people place such a child-like trust), I want that man's blood and I will have it no matter what it costs me personally."
While Sims respected those who were senior to him, rank alone didn't seem to impress him. Navy Staffs that stood on bureaucracy and focused on building bullets for their own fitness reports over the combat effectiveness of operating forces were his enemy. He apparently felt pretty strongly about it.
I'd say that Sims certainly had true grit in this case. He continued writing reports. However, his language became more dramatic as he pointed out the risks involved in ignoring the TTP's he was developing. Besides sending his reports to the Bureau he began to send them to battleship Captains across the Fleet, on his own initiative. He got his Commanding Officer to endorse the reports, and the Admiral who headed the Asiatic Squadron on China Station. They had seen TERRIBLE and KENTUCKY in action and couldn't deny the success.
As word spread in the Fleet the Bureau realized that they needed to do something. Captains were writing messages back to headquarters and asking questions. They developed a test to prove that continuous-aim-fire didn't work. After the test, they wrote a report that said Sims' claims were a mathematical impossibility. However, they conducted the test without making the modifications Sims suggested to the guns, and they completed the test on land…for a gunnery practice designed for a rolling ship. The Bureau of Ordnance submitted their report that continuous-aim-fire was impossible. Belief in Sims' claims evaporated overnight.
Sims had submitted 13 reports in all, over the span of two years, each one continually improving his method and technique. When he heard that the Bureau of Ordnance had completed a test and proved that what he claimed was impossible, he finally had enough. He knew that if the United States Navy went up against a force that was using continuous aim fire it would be decimated. Destruction of the fleet would open up the U.S. coast to invasion, as the Brits had done in the War of 1812 (a war that was roughly as distant to him as World War I is to us). He believed that the nation's security depended on his success.
Lieutenant William Sims did something that he later characterized as "the rankest kind of insubordination." He wrote a letter to the President.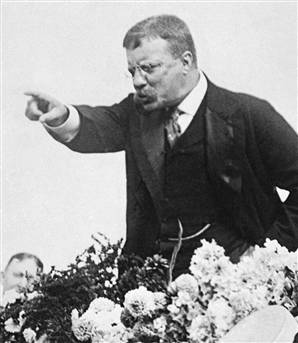 President Roosevelt had been Assistant Secretary of the Navy Roosevelt. He was a navalist in the truest sense of the word. He was the author of the seminal work "The Naval War of 1812" and friends with Alfred Thayer Mahan. He would become the inventor and deployer of The Great White Fleet. As Presidents sometimes did a century ago, he actually read the letter that the young Lieutenant on China Station sent him, and he was shocked. If Sims was right and continuous-aim-fire worked, then he was also right that it was an issue of the highest importance.
Roosevelt had ordered a gunnery exercise in order to demonstrate the existing state of naval skill. The results were worse than anyone predicted. Five ships from the Atlantic Fleet each fired for five minutes at a former light-ship, at a range of about a mile. After 25 minutes of firing, two shells had gone through the light-ship's sails and none had struck the ship itself. Roosevelt ordered the Navy to bring Sims back from China Station, saying: "Give him entire charge of target practice for eighteen months; do exactly as he says. If he does not accomplish anything in that time, cut off his head and try someone else."
Lieutenant Sims returned to the United States and assumed the responsibilities of the U.S. Navy's "Inspector of Target Practice." He held the position for six and a half years. He was given a small staff of two junior Lieutenants and was tasked with revolutionizing naval gunnery. Three Lieutenants, change the world…no sweat.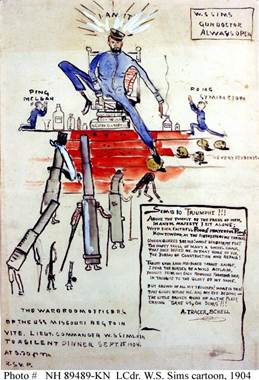 Sims re-circulated his reports to the Fleet and instituted annual practice requirements for gunnery. He didn't make his method of continuous aim fire mandatory, he simply sent out the reports for gunnery officers to read. He established a yearly fleet wide gunnery competition. Every ship in the Navy would compete, and could use any system or technique that they wanted. They were all welcome to start with continuous aim fire. The winning ship would be identified to the Navy and the country, and the winning gunnery officer was responsible for writing a report on his TTPs. Each year, the gunnery officers across the Fleet would pour over that report, and the reports that came before, and make constant refinements and adjustments to gunnery TTP's. They sent out their own reports out and wrote articles for the Naval Institute's place for disruptive thinking, the journal Proceedings.The winning ship each year received a pennant that they could fly on their yardarm, a pennant with an E on it for gunnery excellence. This was the birth of "The Battle E."
Sims was promoted to Lieutenant Commander, and he and his assistants Lieutenants Ridley McLean and Powers Symington were in constant demand to visit the ships of the Fleet. Here you can see an invitation to "The Gun Doctor" and his assistant's "Ping" and "Pong" to visit the wardroom of the USS Missouri for a "silent dinner," which was like a Dining-In, with rules like Vegas: what happened at a silent dinner stayed at a silent dinner.Toward the end of Sims' years leading the gunnery revolution, one gunner on the winning ship made fifteen hits in one minute at a target 75 by 25 feet at the same range as the test ordered by President Roosevelt years before; half of the hits were in a bull's eye 50 inches square.
The US Navy rapidly overtook the Royal Navy as the greatest gunners in the world…and it wasn't until the US adopted continuous-aim-fire that the Brits realized that their own Gritty revolutionary Percy Scott had been onto something all that time, and they followed the American TTPs that had been developed from watching Scott. Even Admiral Newton Mason, the Chief of the Bureau of Ordnance, admitted "The renaissance in gunnery which came about chiefly through the instrumentality of Commander Sims, has … led to great improvements in ordnance." In the Fleet Lieutenant Commander Sims became known as "the man who taught us how to shoot."
NEXT: Expertise, Voice, Grit, and Listening…A Look At The Possible.