This is the final installment in my series of posts on William Sims and what his discovery and development of continuous aim fire a century ago can tell us about junior leaders and innovation. They are part of the remarks that I delivered at NWDC's Junior Leader Innovation Symposium.
PREVIOUS:
 A Junior Officer and a Discovery.
The Gritty Truth of Junior Leader Innovation 
Years after serving as the Navy's Inspector of Target Practice, as World War I raged, Rear Admiral William Sims was sent to England to command all U.S. Naval Forces based there. Promoted to Vice Admiral, he arrived as the U-boat Wolfpacks of the German Navy were decimating the supply lines across the Atlantic. The British Isles were on the verge of starvation. The Royal Navy had been completely ineffective against the German submarines as they massed their battleships to take on the German Imperial Navy's High Seas Fleet.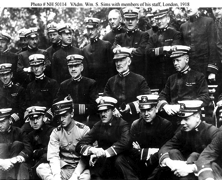 When Admiral Sims arrived he was approached by a group of young Lieutenants who brought him an idea which the Royal Navy had refused to implement. These Lieutenants were the Commanding Officers of a new class of warship called a Destroyer, and they believed that working together they could convoy supplies across the Atlantic and take on the Wolfpacks, swarm against swarm. The Royal Navy's Admiralty refused to adopt the new tactics. Sims requested more destroyers from the States, and told the Royal Navy that the US would help out if they tried the young JO's ideas.
The convoy system showed results almost immediately. The convoys were so successful and so vital to the war effort that Sims – the very definition of a Battleship Admiral – cabled back to Washington and told the Department of the Navy to stop building Battleships and put all shipbuilding into Destroyers … all because he listened to a group of Junior Leaders with a good idea.
After the war was over, Sims took over as the President of The Naval War College. He made adjustments to the curriculum and he started running officers through war games. These war games included early work on a war plan that could be used for a conflict in the Pacific. The work that Sims started on the Pacific plan, which became War Plan Orange, suggested that the U.S. Navy should look into investing in a new kind of ship … the aircraft carrier. The Battleship Admiral, who championed Destroyers because of the tactical and operational innovation of junior leaders, turned to the birth of naval aviation because of the ideas of his subordinates at the War College. The Milwaukee Journal wrote that Sims "continued to be a thorn in the fat flesh of the naval hierarchy during his entire career."
What can we learn from this story?
First, you have to know where your expertise lies. You have to study, and do the deep research needed to understand why things are the way they are. You have to understand that you don't know everything, and like Sims working with his wardroom mates and his gunner's mates, you have to work to identify challenges and problems. It's important to admit that you don't know everything. Once you admit it, start learning as much as you can. Alfred Thayer Mahan wrote, "The study of history lies at foundation of all sound military conclusions and practices." The key element in his principle is that we have to study and develop our expertise.
Find a way to talk about your idea. Take Sims' warning to heart though and don't be insubordinate, don't write a letter to the President (it's probably not going to get you anywhere today anyway). However, you need to engage both inside the system and outside the system. Inside the Navy and the Military you have NWDC concept development. You have SUBFOR's TANG that we heard about from VADM Richardson earlier. And we have some of the resources that Dr. Fall from ONR described. You also have your chain of command. You can submit changes to TTP's and manuals, NATOPS changes, or write white papers to submit up the chain. Outside of the lifelines there are also options. Write an article for USNI's Proceedings or write up your idea for one of the online publications like USNI Blog, Small Wars Journal, Information Dissemination, or the Next War Blog at the Center for International Maritime Security. We can also engage with the community professional organizations like Naval Helicopter Association, Tailhook, or the Surface Navy Association.
Third, find something you believe in and demonstrate your own grit. You have to want to do this. This isn't a fast or sure way to a fitrep or an eval bullet. This isn't necessarily going to get you another ribbon for your chest candy. This is for the combat effectiveness of the Service. This is about professionalism. You have to be willing to spend 2 years writing 13 reports that everyone appears to be ignoring. You have to be willing to invest the time and energy and hard work needed to see your idea through. Christopher Hitchens wrote in his book Letters to a Young Contrarian, "Don't expect to be thanked, by the way, the life of an oppositionist is supposed to be difficult."
Finally, we all need to learn to listen. This is especially true as we become more senior. Today we may be the junior leaders, but that means tomorrow some of us will be the mid-grade leaders, and in the future some of us will be the senior leaders of the Navy. Sims is proof that when you remember it's not about you but instead it's about the idea and about the Service, you can continue to innovate as you are promoted. However, as a senior officer or senior enlisted it takes more listening and more encouraging of your subordinates, because they're likely to have the next great idea…like convoys or aircraft carriers. Having senior leaders that listen, and who become the champions of the great ideas of their subordinates, is just as vital as having junior personnel with innovative ideas.
There's a reason why the title of my last slide says "Lessons Observed." These lessons are just ideas that I've pulled from this story. William Sims offers us all a great example to learn from. However, whether or not these observations actually become lessons learned … that's up to you.
The author would like to thank VADM Daly, Bill Miller, and Mary Ripley from USNI for encouraging his involvement with the NWDC conference.

Posted by
LCDR Benjamin "BJ" Armstrong
in
Hard Power
,
History
,
Maritime Security
,
Naval Institute
,
Navy
,
Proceedings