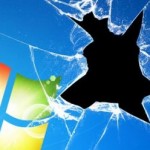 I think everyone has ideas on how we can make our FITREPs better – mine have been the same since the latest version came out in the Clinton Administration – but there is one aspect that I never really had an issue with: rankings.
It had always made sense that you had to make the call; not everyone gets a trophy and someone must be #1, #2, etc. It seemed rough, but needed in order to help others read the entrails in our opaque system to divine who are our best players.
Is there something wrong with this part of our FITREPs that may, by its very nature, be destructive to fostering an environment of innovation and progress? Is this one of the sources of our problem with more of a focus on loyalty to individuals vice loyalty to institutions?
Over at Vanity Fair, our buddy Chap sent along to me a short but devastating piece on Microsoft's Lost Decade. A little close to home?
…. a management system known as "stack ranking"—a program that forces every unit to declare a certain percentage of employees as top performers, good performers, average, and poor—effectively crippled Microsoft's ability to innovate. "Every current and former Microsoft employee I interviewed—every one—cited stack ranking as the most destructive process inside of Microsoft, something that drove out untold numbers of employees," Eichenwald writes. "If you were on a team of 10 people, you walked in the first day knowing that, no matter how good everyone was, 2 people were going to get a great review, 7 were going to get mediocre reviews, and 1 was going to get a terrible review," says a former software developer. "It leads to employees focusing on competing with each other rather than competing with other companies."
Not just Microsoft in the "don't be like them" category; ponder back some more.
"I see Microsoft as technology's answer to Sears," said Kurt Massey, a former senior marketing manager. "In the 40s, 50s, and 60s, Sears had it nailed. It was top-notch, but now it's just a barren wasteland.
That rolled in the last line of the article reminded me of how we used to make fun of the Soviet Navy back in the day.
"They used to point their finger at IBM and laugh," said Bill Hill, a former Microsoft manager. "Now they've become the thing they despised."
How do those in the Royal Navy see our seamanship? How do the Japanese see our PMS and maintenance practices? How do the Dutch, Danish, and Norwegian shipyards see our methods?
If we want our future Navy to think and be nimble – perhaps we could start a conversation about what organizational cultures we like, and see how they recognize and grow talent internally. That could at least be a good way to kick things off.

Posted by
CDRSalamander
in
Cyber