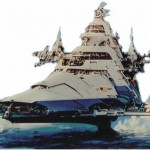 It has been an interesting few weeks for the LCS program. In mid-month we had Chris Cavas' one-two punch laying bare the critics warnings coming to fruition on the cattywampus mission module concept, weaponeering shortfalls, and most critically – an unexecutable manning CONOPS.
Especially in a time of budget stress, a weak program that has gone awhile without good news gets plenty of attention.
Throw in to the mix an interesting whispering campaign and …. what is that? Blood in the water?
Makes this little paragraph from the N9 CNO UPDATE FOR 14 JULY TO 27 JULY 2012 have a bit more nuance:
LCS: OPNAV has received several requests for materials and/or briefs in relation to the LCS program, which we have coordinated with VCNO, OLA, FFC, and FMBE. Requests pertain to:
1) VCNO directed Review of the Navy's Readiness to Receive, Employ and Deploy the LCS Class Vessel
2) CFFC War Games #1 and #2
3) Ongoing Fleet assessments and operational experiences for both LCS ships in service.

Specifically:
– SASC has requested a copy of and a brief on the OPNAV LCS Review, and the outcome of CFFC War Games. N96 SASC brief is scheduled for 27 Jul.
– HASC made similar requests, N96 HASC brief is scheduled for 31 Jul.
– SAC (D), CBO and CRS made similar requests, briefs TBD in mid-Aug.
In many ways, sadly, the LCS argument gets Groundhog Day-ish. I'm reminded of a quote from a post at my homeblog over six years ago from Carl Carlson's LCS Characteristics Task Force Final Report from 2002 – a solid decade ago.
We recognize that LCS is a fast moving train and that some decisions may already have been made on some of the issues considered in this report. However, given the high stakes involved for those who will serve on LCS ships and for the Navy's effectiveness in future conflicts, we hope the careful analysis of the broad and diverse expertise of the study participants who informed these findings and recommendations will receive due consideration in deciding the future direction of LCS development.
Yes, we continue to hope.

Posted by
CDRSalamander
in
Navy