We've created all this connectivity, we've wired just about every aspect of our lives. The national discourse appears in thousands of blogs, news aggregators, social media profiles, and more. Google before you Tweet is the new think before you talk and foot notes have evolved into hyperlinks.
My life is largely consumed by being online, by blogging, linking, reading, summarizing, analyzing, and connecting online. My duties are wholly impossible without email and social media–and all of this is arbitrary and contrived. This venue for our discourse, the internet, is an invention that is not even a hundred years old. Its mass adoption has not even reached twenty years, a sizable portion of the World's population is firewalled into their own mini-internets in places like China, and yet others do not even yet have electricity. This way we communicate is new, we created it and we don't even understand what we've done. To try to start to understand what we've done is hard, very hard, it's one of the most pervasive absurdities we live with, and it's of our own divice.
But, we must understand it, as we are becoming as much apart of it as we are the designer. The way we use the internet affects how we think and view the world. The speed at which something is availed to all who can find it, the amount of data created (As much in two days, as was created in the whole of history up to 2003). The individual is a finite resource limited by time and the ability to properly digest the information availed to them.
The pressures inherent in a system like the society we've created for ourselves is significant, especially for those of us who are content producers (and we're all content producers… Some of us just don't make a living as such).
*****
Jonah Lehrer's book "Imagine" was on course to be one of the most important books of 2012. I personally had watched every YouTube video presentation of his, I had purchased the book for my father and for myself. I was on the cusp of recommending it far and wide to ears that could do well with such insights. Then, I read this,
When I asked about aspects of his interactions with Rosen, Lehrer provided a sketchy time frame and contradictory specifics—he first told me that he had personally exchanged emails with Rosen, then attributed this supposed email exchange to his literary agent—then further claimed that Dylan's management had approved the chapter after being sent a copy of Imagine. He added that Dylan's management didn't want their cooperation sourced in the book. But when I contacted Dylan's management, they told me that they were unfamiliar with Lehrer, had never read his book, there was no bobdylan.com headquarters, and, to the best of their recollection, no one there had screened outtakes from No Direction Home for Lehrer. Confronted with this, Lehrer admitted that he had invented it.
Having invented content as Lehrer did is not unique to 2012. Back in March This American Life had an episode titled Retraction where they devoted the episode to a follow on interview with Mike Daisey on why he "misled This American Life during the fact-checking process." From the prolog,
Host Ira Glass tells listeners we can no longer stand behind the reporting in the recently aired episode "Mr. Daisey Goes to the Apple Factory." He explains how Marketplace reporter Rob Schmitz tracked down Daisey's interpreter in China — a woman named Cathy Lee — who disputes much of Daisey's story. And Ira talks about how Mike Daisey lied to TAL during the fact-checking process, telling Ira and our producers that Cathy was not her real name and that she was unreachable. Ira also stresses that, without Cathy's corroboration of the story, This American Life never should have run the story in the first place.
What Lehrer and Daisey have done is abhorrent, and there is no way to efficiently preempt the actions of these men, or others like them. It is not something new, as there have always been liars. Though there is much to be said of the ability to get the truth out, and to hold accountable such actions as the internet has allowed. The size of the information a single person contends with on a daily basis does as much to influence content producers to provide that killer metric, data point, anecdote to support their position, or elevate what they have to say above the background noise (think of how LCS, LPD 17, and the ZUMWALT were pitched).
For the average person, such instances count for mere annoyance. Just another huckster, a host for the modern day carnival side-show, parading themselves around and slinging faulty memes. However, when such work informs an opinion or world view that then informs policy makers, the issue counts for much more than mere annoyance. As happened with Greg Mortensen's work having been cited in numerous reading lists, these instances count for much more than mere annoyance–they become a world view predicated upon lies.
It is a burden of our own creation in sifting through all the information available. At once we have created this amazing ability to tap into the 'collective intelligence' of those online towards improving the decision making process. The internet for all intents an purposes is not new (nor old), the shine and glint of it has worn off–it is not the next best thing, it is a 'thing' and so we must set about towards creating routine in its use.
We find ourselves with a mess. As Bruce Sterling has put it,
Then there is the colossally huge, searchable, public domain, which is now at your fingertips. There are methods to track where the eyeballs of the users are going. There are intellectual property problems in revenue, which interferes with scholarship as much as it aids it. There is a practice of 'ragpicking' with digital material – of loops, tracks, sampling. There are search engines, which are becoming major intellectual and public political actors. There is 'collective intelligence'. Or, if you don't want to dignify it with that term, you can just call it 'internet meme ooze'. But it's all over the place, just termite mounds of poorly organized and extremely potent knowledge, quantifiable, interchangeable data with newly networked relations. We cannot get rid of this stuff. It is our new burden, it is there as a fact on the ground, it is a fait accompli.
Many of us are just now coming to terms with how we can apply process to managing the 'internet meme ooze' in informing ourselves. Sterling also outlines the process in this 'atemporal' age,
'Step one – write problem in a search engine, see if somebody else has solved it already. Step two – write problem in my blog; study the commentory cross-linked to other guys. Step three – write my problem in Twitter in a hundred and forty characters. See if I can get it that small. See if it gets retweeted. Step four – open source the problem; supply some instructables to get me as far as I've been able to get, see if the community takes it any further. Step five – start a Ning social network about my problem, name the network after my problem, see if anybody accumulates around my problem. Step six – make a video of my problem. Youtube my video, see if it spreads virally, see if any media convergence accumulates around my problem. Step seven – create a design fiction that pretends that my problem has already been solved. Create some gadget or application or product that has some relevance to my problem and see if anybody builds it. Step eight – exacerbate or intensify my problem with a work of interventionist tactical media. And step nine – find some kind of pretty illustrations from the Flickr 'Looking into the Past' photo pool.'
His description is a play off of how Richard Feynmann described intellectual labor,
Step one – write down the problem. Step two – think really hard. Step three – write down the solution.
Sterling has succinctly outlined how we've moved in our approach to informing our problem solving process. To date, we've cobbled together a sorts of additional steps, additional perspectives, additional subordinate processes to ensure nothing has been left out.
Increasingly we've had to add 'glitter' to attract attention to a problem, while adding the most peril–how do we attract attention without having to stretch the truth as many have done? All data generated, all content created, is a small fish in a large pond that is growing exponentially.
Like a painting that isn't done yet, outline showing and colors overlapping, we are left to assume how the painting would be finished. The collaborative process we've thus far been able to create is not far removed from group finger-painting in Kindergarten.
Exacerbating our challenge is the that while we must contend with greater volumes of data we additionally have to deal with the rate at which that data and content is created. The time we have to cobble together a cohesive narrative shrinks with every year. Narratives that require context that can only be given with significant amounts of additional information.
In moving beyond this mess we find ourselves moving beyond a post-modern paradigm. Sterling calls this new paradigm 'atemporality.' For the simple reason that history is no longer so much written in ink on pages in books that do not change and cannot be edited once the ink dries. This narrative we collectively write by living life is being written, erased, and rewritten in real time as we post to social media outlets, write blogs, comment on news stories and the like.
As blogs correct the inaccuracies reported, or lies paraded as truth, the narrative shifts along with our world view. How we learn and view our world; how we treat information, knowledge and wisdom, is no longer challenged so much by a lack of perspective, as it is by the amount of perspectives. But, what Post-Modernists like Lyotard did not consider, is that the sum of cybernetics (the internet and computer technology) can contain the very meta-narrative they said could not exist–the zeitgeist.
Meta-narratives are more important than they've ever been. Increasingly it is the job of many of us to help understand that meta-narrative. The challenge inherent in this is in pulling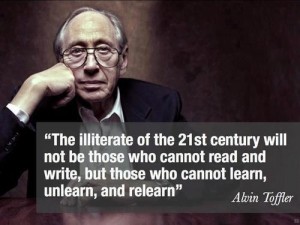 apart knowledge and putting it back together–learning, unlearning, and relearning. The processes we've thus far adopted are not very efficient, however. As outlined by Sterling above, we've created numerous other steps that are not truly required to solve something. In terms of the meme on the right, we might not be truly illiterate, but we essentially are functionally illiterate, especially in terms of our organizations.
One does not have to look any further than to how we have decided to contain our information and convey it to others to see where we stop being literate–PowerPoint. As much as the cybernetics (the medium) is the zeitgeist (the message), we have chosen to contain our knowledge (the message) in PowerPoint (the medium). Additionally, one sees the same issue of adding 'glitter' into PowerPoint, and briefings in general to raise them above the background noise.
We may have come to the point to where we must allow things to be aesthetically bland, boring and uninteresting. It is all together too easy to apply a layer of glitter to a presentation to make it more appealing to an audience. In looking to brief others in the military it should be assumed that your captive audience already has an interest in the topic to be discussed, and that it is not necessary for us to concern ourselves with aesthetics since our content is informed, accurate and important. This is an advantage we enjoy inside our military, and it is folly of us not to take advantage of it.
Glitter is not left to aesthetics alone, additionally it can affect content as well. As Evgeny Morozov brilliantly writes in a recent article,
[O]ne can continue fooling the public with slick ahistorical jeremiads on geopolitics by serving them with the coarse but tasty sauce that is the Cyber-Whig theory of history. The recipe is simple. Find some peculiar global trend—the more arcane, the better. Draw a straight line connecting it to the world of apps, electric cars, and Bay Area venture capital. Mention robots, Japan, and cyberwar. Use shiny slides that contain incomprehensible but impressive maps and visualizations. Stir well. Serve on multiple platforms.
This points to the tendency of connecting dots which should not be connected. The zeitgeist can be seductive in that since so much information is contained with so many hyperlinks between them all, that everything is relevant to everything else, and that solutions must equally apply to all that is relevant; and is another aspect of Post-Modernism that falls short. But, just because you can see how all information, how all data is related, it does not mean that it matters.
Three steps. Write the problem down, think really hard, write down the solution. That's all that is necessary, if you want to go full luddite, you could say that you really only need to do one thing–think.
For the military, it is time to look closely at how we communicate with each other. How many of us are like the type of person Morozov describes? How many of us make up for lack of content with aesthetics? When you're preparing a brief, how do you communicate your message? It's a well worn, and nearly trite, statement to say that since the money is leaving, we have to really start thinking–but, it's also true.
Start reasoning, start communicating, and stop selling.

Posted by
CTR1(SW) H. Lucien Gauthier III
in
Cyber