Archive for September, 2012
The way the Navy implements policy has remained largely unchanged in 237 years. The Navy identifies a need, prepares a response, and mandates it from above[i]. This top-down approach cannot work in social media—or any field that is highly technical and rapidly changing. The trajectory of social media development in the Navy has consisted of three largely indistinct phases: hesitant adoption, hasty implementation, and halting stagnation. What is needed now is a transition to a more open system aimed at lowering internal barriers to communication.
Social media use highly accessible and scalable publishing techniques to achieve social interaction. A McKinsey Consulting report recently estimated that "things like improved communication and collaboration from social media in four major business sectors could add $900 billion to $1.3 trillion in value to the economy." This value is mostly added through increased productivity. There are enormous gains to be had through connection and collaboration within the Navy.
The Navy and Marine Corps are two massive organizations and it takes considerable time to learn how to navigate within them successfully. Internal tools to break down communication obstacles are required. When a Marine 2nd Lieutenant learns that the canteens for her troops are leaking due to poor design, she should be able to quickly and easily reach the contractor to provide feedback. When the Navy decides to form a new staff to engage with Pakistan, a heritage Urdu speaker should be able to volunteer to contribute, even if he happens to be a Machinist Mate. As it is now, an enormous amount of human capital remains untapped because the right connections are not being made.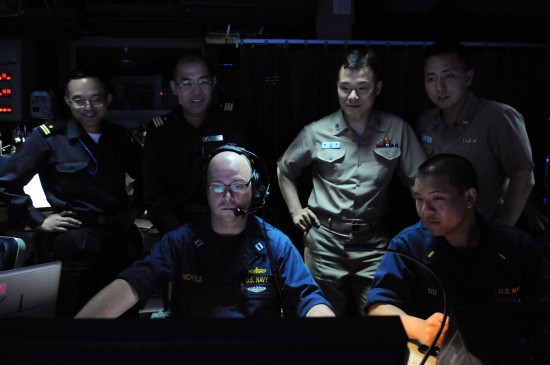 Dr. James Holmes, a USNI Member and author of both articles and books at the Institute, has a series of posts over at his blog The Naval Diplomat about the strategic thinking of Colonel John Boyd and strategy in East Asia. As an occasional student of Boyd's work, I always love reading thinkers who use his ideas to attack today's challenges. Aviators are all aware of Boyd's work because to this day we study the Energy/Maneuverability diagrams for our aircraft (which he discovered and first mapped as a Major) and those of our opponents to learn how to get the most out of our airframes. As Holmes outlines, Boyd is also the father of the OODA Loop, sometimes called The Boyd Loop. Starting at the tactical level, but also moving through the operational to the strategic, Boyd identified four phases that occur in any competition: Observe, Orient, Decide, Act.
Many people who have studied Boyd's work focus on the speed element. Speed plays an important role in his thinking. He focuses on "fast transients" in a lot of his work, or the ability to move through the loop faster than your adversary. He suggests that success comes with the ability to change directions or adapt most quickly. The element of speed draws a lot of people in, from business strategists and writers to military strategists who suggest that out-speeding your opponent will result in a shock to their system that can end fighting quickly. However, this focus ignores an important question: Can you speed in the wrong direction?
Newer Entries »