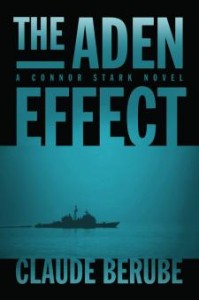 Claude Berube has accomplished a masterful work with the release today of his most recent novel, THE ADEN EFFECT. Berube's story is fast-paced, action packed, and full of wonderfully developed characters supporting a believable but creative narrative that keeps the pages turning.
The story follows Connor Stark, a former naval officer who lives anonymously in the rugged Hebrides of Scotland after having been dishonorably discharged until he is called back to service by the American Ambassador to Yemen, C.J. Sumner, to assist with countering the threat of pirates as she is embroiled in negotiations intended to gain access to oil fields off the coast of Socotra. Stark soon discovers a greater threat to the region and the country after uncovering ties with a prominent shipping company and Yemen's ruling family which leads to a deeper chance discovery that carries the action even further.
From drug trafficking, to Somali pirates to high stakes politics, Berube has knocked this one out of the park. Steven Pressfield was spot on when he commented that the author "has given us the toughest, brainiest, and most interesting new hero since Tom Clancy's Jack Ryan. The Aden Effect is the think man's military thriller."
Sales of The Aden Effect start today. I highly recommend you pick up a copy to give yourself an entertainment alternative from all of the electoral theater that's forthcoming. Unlike this year's politics, this story will not disappoint.

Posted by
Alexander Martin
in
Books
,
Maritime Security
,
Naval Institute
,
Navy
,
Piracy