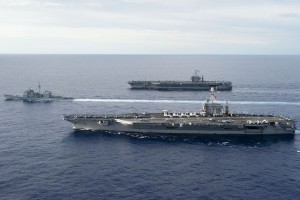 We hear a lot about the Battle Force when talking about US Navy force structure and the documents that guide how we deploy and employ our Fleets. As a reader of Mahan, the language brings me back to a phrase he repeatedly uses in his writing, "The Battle-fleet." See, in Mahan's day the U.S. Navy started out as a 5th rate power (or worse) and didn't even have a single fleet that could stand up to a foreign navy when massed together. Over the years he wrote, culminating about the time he passed away in the prelude to World War I, the USN slowly built its battle-fleet to be a peer of almost any navy on the seven seas. Over the next century the USN continued to build and develop itself into the superpower it is today, with several fleets positioned globally.
Much of what we hear about the Battle Force today harkens back to Mahan's writing on how to use the battle-fleet. The focus is decisive combat against the enemy's naval forces followed by or concurrent with the projection of power ashore. The focus is on the high-end and kinetic operations which should be the focus of the battle-fleet and, by analogy in today's language, the modern Battle Force.
But the comparison to today's Navy starts to come apart as you read about the types of ship's Mahan thought were appropriate for a navy. While most of us are taught about his belief in the battle-fleet, and its role in pursuing and winning decisive battles that would establish American command of the sea, we're rarely reminded that in his view a Navy didn't stop there. Yes, he believed the battle-fleet had to win the decisive battle but there are many other tasks of naval forces. In his essay "Considerations Governing the Disposition of Navies" he wrote that a properly constructed navy needed to be balanced and have three main parts. First was, yes, the battle-fleet. Second was independent cruisers. Third was small combatants and craft to operate in close to an enemy's shoreline. It wasn't all one battle-fleet, but a balanced naval force designed for more than just blue water battle.
Each of these different groups of naval vessels had a role to play in major combat operations, but also a matching role to play in peacetime operations. In war the battle-fleet remained offshore, far enough away from the enemy's coastline that it wouldn't fall victim to costal defenses (what today we call A2AD threats). There the battle-fleet awaited the enemy's fleet, maneuvering for positions of advantage for the coming decisive battle. The independent cruisers would range between the battle-fleet and the enemy's coast, looking to pick off scouts and small squadrons or ranging further afield to strike at the enemy's merchant shipping and impose an economic cost. Finally, the smaller littoral ships ranged in close, tested and engaged the enemy's coastal defenses, and scouted for the enemy's fleet to determine when or where it would sortie to engage in the decisive battle.
Today's Battle Force has platforms which fill all of those rolls in the vision of the 21st century naval conflict. In Mahan's day it was an all surface affair, with ships of varying sizes and armaments filling the roles. (He wrote that submarines and torpedo craft, which were experimental platforms for turn of the century navies, were likely to gain success and capability and become part of the mix, but it hadn't happened before his death). Today, many of the roles are still filled by surface combatants, but submarines and aircraft have taken over significant parts of the equation. They have assumed many, if not all, of the roles and missions traditionally taken by the independent cruisers and the small combatants in the littorals, and with much success in kinetic operations. The name Battle Force, rather than battle-fleet, is certainly accurate.
The problem with today's Battle Force is that by replacing the cruisers, scouts, and small combatants with submarines and aircraft it loses the capabilities those vessels brought to the peacetime missions. For centuries navies, unlike armies and more recently unlike air forces, have had dual responsibilities not just to fight and win the nation's wars at sea but to serve in peacetime to protect the nation's interests, deter challengers, and serve as a diplomatic arm of the military in building partnerships and friendships across the globe. From our nation's earliest days the dual uses of naval forces were on our leaders minds. Former Naval Academy and Naval War College professor Dr. Craig Symonds wrote in his book Navalists and Antinavalists:
All of President James Monroe's surviving papers on the navy or on naval policy reflect a concern that it efficiently perform two distinct services: first, that it be adequate to cope with the daily problems of a maritime nation – smuggling, piracy, and combating the slave trade; and, second, that it provide the United States with a comfortable degree of readiness in case war should be forced upon the nation.
What today we refer to as maritime security operations and partnership building isn't a new-fangled 21st century idea. In fact, it's a mission which goes back to the very founding of our service, shared with navies throughout history.
Today's Battle Force is a battle-fleet on steroids, one that has absorbed the rest of the naval force. It is surely powerful and brings us more than "a comfortable degree of readiness in case war should be forced upon the nation." For fighting and winning a major war it has no equal on the seven seas. However, it becomes a self-fulfilling prophecy because major war may become more likely if there are no ships to conduct the first distinct service President Monroe enumerated.
While the Cooperative Strategy for 21st Century Seapower says all the right things, the Battle Force isn't built for that strategy. It is only built for one half of our navy's job. It has mobility and the flexibility to engage multiple targets, but more and more often it lacks true adaptability to do more than just put warheads on foreheads, or threaten it. As the Battle Force shores up its control of the Navy the ability to adapt to smaller contingencies, work in contested waters that are not yet in kinetic conflict, or engage non-state actors and build partnerships becomes harder and harder. Yet these are all the things needed to help avert war, and so actual war at sea becomes more likely, and the Battle Force continues to become stronger.
Naval thinkers from Mahan to Corbett to Zumwalt to Hughes have discussed the importance of having a balanced fleet. High/low mix, Streetfighter, or Influence Squadrons are just other ways to talk about a balanced fleet which is capable of the "regular" major combat operations and fleet engagements as well as the "irregular" maritime security operations and partnership/diplomatic development. Mahan wrote that his own thinking and writing provided a solid foundation to move on to the writing of Sir Julian Corbett, the British navalist who told us that "in no case can we exercise control by battleships alone." Today's networked Battle Force is impressive and powerful. As Mahan wrote, it is the starting point for a properly constructed naval force. But the question is…does a powerful battle-fleet alone provide the Navy we need to face the turbulent seas of the 21st century?

Posted by
LCDR Benjamin "BJ" Armstrong
in
Foreign Policy
,
Hard Power
,
History
,
Innovation
,
Maritime Security
,
Navy
,
Proceedings
,
Soft Power
,
Tactics