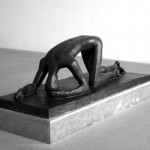 A couple of years ago here, I posted about the danger of getting too close to the media, I described what is the downfall of many GOFO;
Vanity. Non-mission related, non-value added vanity that degraded or destroyed the "brand" of men who gave decades of service to their nation and rose to its highest levels.
In his self-immolation, General Petraeus, USA, has provided, in a fashion, a very good object lesson for leaders from LPO to CNO. It is not a new lesson, it is not a unique lesson – as a matter of fact it is a lesson that echoes throughout human history. It isn't limited to the military environment either, it is just part of the human condition; ego, power, and sex.
Do we talk about this enough? Not really. Not in the direct manner we need to. We talk around it. As it can be a bit touchy for some in a socio-political context, usually we only discuss the second and third order effects after it all goes south. We are more than willing to talk about the externalized manifestation of the ego-power-sex dynamic; the person who abuses their power to gain sexual favors or to force themselves on subordinates, but we do not talk enough about the internalized version of it; the magnetic draw and seductive nature of power itself, how it warps the ego, and how it morphs in to the emotional and mammalian drive towards sex.
Power is an aphrodisiac that can make even the physically or personally repulsive person attractive. It draws in certain personalities to men with power and influence. Can it happen male to female as well as female to male? Sure, I've see the "scalp hunters" in action – but that would be the extreme exception to the rule, and frankly silly to discuss. In the real world we are talking about the man in power and the women who are drawn to them. We see that dynamic at NJP, in the relief of Commanding Officers, and all the way to the 4-star level.
Perhaps some leaders who are not fully self-aware may have missed it, but in a gender mixed environment, almost all male leaders will have females of lower status attempt to get closer than they should – in a heterosexual context via a way a male colleague cannot. We are all adults here, we know how the bouncing ball goes from that brief moment of enjoying the company of a woman's voice a little longer than one should.
About the whirlwind unleashed by General Petraeus's very human weakness, more details will come out, and others will be writing about every aspect of this for awhile. Get used to it, as this has all the aspects of power, sex, infidelity, and intrigue that a story with legs needs. It is much more interesting to the general public than sequestration, the Afghanistan withdraw, or fiscal cliffs. Let that work its way out, but for us – what is the base lesson that should come out of this at the deckplate level – specifically for male leaders?
It is simply this; you will find yourself in a place sooner more than later where a female subordinate will make herself available to you. It can cover the entire spectrum from raw and physical immediacy, to a slow growing relationship based on professional respect and friendship that intensifies with proximity.
There was more than one decision point in the relationship that brought down General Petraeus where he should have diverted then-Major Broadwell back to the gym solo, but he didn't. As a result, a reputation is in tatters, a critical agency has lost a leader, a war's leaders are distracted, and two families are in turmoil. In time I am sure we will all know more than we want to, but one thing is clear. He is the person responsible for this. He was senior in age (almost two decades) and position (at the start we think O-4 to O-10). It was his inability to control his weakness, his ego, and his actions that brought him here. He knows this too, or at least he does now.
As young leaders grow in positions of authority they need to keep simple human nature in mind. You will be tempted, even if you try to avoid it. You can end it as quickly as it comes up, and all will go along as before. We are all human, and at a weak moment, you may pause – but don't pause long – there are too many lives, families, and careers that are riding on you being a leader and doing the right thing.
If you fail, that is on you. Same with General Petraeus; this is on him. Not the woman on the other side of the story; not the media; not the FBI; not his staff; not anyone above him in the chain of command, other agencies, or political parties.
There are many positive things to benchmark with General Petraeus's career, and now you have a negative one. Don't want to have all your hard work blow up in your face? Look at the poor decisions he made, and look for those decision points in your life where you will have to make the call – you will be there – do it right.

Posted by
CDRSalamander
in
Army
Tags:
Leadership