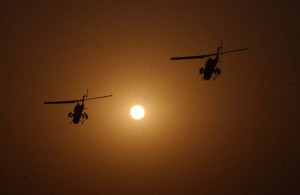 Last week, I read one of those books that is impossible to put down. I read it—devoured it is more like it—in about a night-and-a-half of reading instead of sleeping. That's something I don't do these days, but I had to finish it.
It was weirdly familiar and hard to read, and in many ways it resonated. It's called After Action: The True Story of a Cobra Pilot's Journey, and it was written by Dan Sheehan, a fellow Cobra pilot. It's—sort of—a recall/analysis of his time in Iraq in the early days of OIF and a discussion of the aftermath. I haven't flown since 2010, but while reading his book, it felt like yesterday. I could smell the cockpit like the blades had just stopped turning, could feel the switches and gauges under my fingertips again, and remember well the post-mission stupor exacerbated by the dull, strong whomp-whomp of the blades echoing up my back.
Dan is an acquaintance; we both served as instructors at the Fleet Replacement Squadron right before we each left active duty. I don't know him incredibly well, but he's got a stellar reputation and was exceedingly competent. But that's not why I hope people read his book.
I hope people read it because what he writes about is important. Yes, flying is interesting, and he describes what that's like so expertly and eloquently that it made me physically miss it (as if I didn't miss it enough already). So if you've ever wondered what it's like to fly and fight a Cobra, he'll tell you. But the beauty in this book—if I dare use that word to describe the critical part of his story—is his ability and willingness to stand up and put a face to what so many veterans have experienced and continue to experience.
It's a book that may not get a huge following, as it's kind of in its own category. But if it doesn't get widely read, then it's a crying shame. Despite the fact that we've been at war for over a decade, less than 1% of Americans have served in Iraq or Afghanistan (yet many of those endured multiple deployments), and I find myself repeatedly surprised by how few citizens have a real awareness of just what has been happening since 2001. I want people to read Dan's book, both those who have served and those who have not. Those who have might see traces of themselves in his story, and those who have not served need the perspective. Thank you, Shoe. Keep writing.

Posted by
Jeannette Haynie
in
Aviation
,
Marine Corps