In light of the previous post by USNI admin, and the commentary generated, I'd like to add my thoughts in the form of a picture. Or rather, two pictures. And neither one is taken particularly well, for which I apologize.
Back story: last weekend, we took the kids up to Annapolis to see downtown and the Yard all decorated for Christmas. On a trip through the Naval Academy Club (BOQ), we came upon this gingerbread house. No doubt paid for by taxpayer dollars. Hmmm.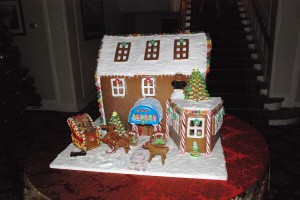 Very nice, of course, and I thought the midshipman sneaking out of the house was fitting.
Of course, someone had made a slight change from the original model: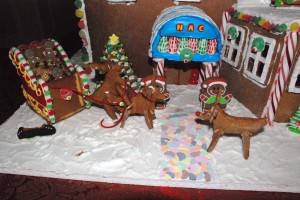 It was nice to see that some things, like the behavior of 18- to-22-year-olds, will never change. And then my 4-year-old asked me why one reindeer was on top of the other one.
I'm inclined to think—based on my reading of the info in the admin post below—that the cancellation of the live Nativity in Bahrain was somewhat over-the-top. However, I'm also inclined to believe that: a) I belong to a mainstream religion and have never felt marginalized for any religious beliefs, and b) we have bigger problems to argue about.
I, for one, got a laugh from the taxpayer-funded reindeer…um…party that apparently lasted all night at USNA (when we came through the next morning Dasher and Prancer were back in their originally intended, separate spots).

Posted by
Jeannette Haynie
in
Navy
,
Policy