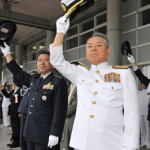 In the course of reading Robert Kaplan's article in the Wall Street Journal, I had to back up and read this twice.
The Japanese navy boasts roughly four times as many major warships as the British Royal Navy.
Wait … what?
OK, that reality has sunk in over the last decade – but we are still a bit of an Anglophile navy, and even with the Pacific Pivot, we still give the mother country a lot of heft for historical and emotional reasons.
In their constitutional quasi-isolation, Japan's very real power has
Here is the context;
… in Asia. Nationalism there is young and vibrant—as it was in the West in the 19th and 20th centuries.

Asia is in the midst of a feverish arms race, featuring advanced diesel-electric submarines, the latest fighter jets and ballistic missiles. China, having consolidated its land borders following nearly two centuries of disorder, is projecting air and sea power into what it regards as the blue national soil of the South China and East China seas.

Japan and other countries are reacting in kind. Slipping out of its quasi-pacifistic shell, Japan is rediscovering nationalism as a default option. The Japanese navy boasts roughly four times as many major warships as the British Royal Navy. As for Vietnam and the Philippines, nobody who visits those countries and talks with their officials, as I have, about their territorial claims would imagine for a moment that we live in a post-national age.

The disputes in Asia are not about ideology or any uplifting moral philosophy; they are about who gets to control space on the map.
Silly Transformationalists … dreaming is for kiddies. Get ye back to your history books!
Back on topic though; yes, the facts are clear.
Though you can find +/- difference depending on source, definitions, and recent com/decom; here are the numbers:
Royal Navy:
Helicopter Carriers: 2
Amphibious Ships: 2
Destroyers: 7
Frigates: 13
Submarines: 6-SSN, 4-SSBN
We'll call that 24.
Japanese Navy:
Helicopter Carriers: 2 (technically 4, all of which are helicopter carrying destroyers. The SHIRANE Class of 2 are only half decks and are really just destroyers. HYUGA Class of 2 are no-kidding helicopter carriers. Two more much larger 19,500 ton ships on the way this decade as well).
Amphibious Ships: 5
Destroyers: 40
Frigates: 6
Submarines: 16-SS
We'll call that 67. If you are what Salamander defines as "major combatants" then you have 2.8 times, not 4x, but there are lots of ways to count. Perhaps they are looking at smaller ships as well. By either definition though, it should give one pause not only to reflect about the decline of the Royal Navy – but more importantly – the latent and potential power of the Japanese Navy.
Anyone who has worked with the Japanese will agree with me as well that from a professional point of view, they are an exceptionally quality force.
Here is the tie in.
Did you catch this little memo?
Japan's Defense Ministry will request a second boost to its military budget, according to reports, just a day after the government announced the first Defense budget increase in 10 years.

The boosts, although relatively modest compared with Japan's overall defense spending, coincide with increasing tensions in the Asia Pacific region.Japan's Defense Ministry intends to ask for 180.5 billion yen ($2.1 billion) from a government stimulus package – on top of an increase of more than 100 billion yen ($1.1 billion) to its military budget announced earlier this week – in order to upgrade its air defenses, according to the BBC..
Good. Japan needs to continue to do this, and we should welcome the move as long overdue (though don't get too excited, their larger budgetary problems are even greater than ours). Europe fades, Royal Navy withers … where can the USA look for its major partner at sea?
We don't have to look far. With the tweaks they are on the road to make in their Constitution – Japan is right there.

Posted by
CDRSalamander
in
Hard Power
,
Navy
Tags:
Japan
,
Royal Navy