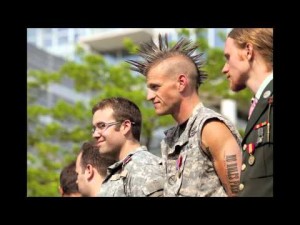 It's ok. It's not just you. You're not alone.
No, I not writing words of encouragement to veterans suffering with PTSD; though they are out there and probably need it. No, I am not writing to veterans who are suicidal; though they are out there and probably need it. No, I am writing to those who are sick of the drumbeat of articles, news stories, or listening to the empathy addict down the street that just won't shut up about how much she cares and only wants to hear things that validate her preconceived notions.
If you are irritated, skeptical, and suspicious of the whole chattering – you're in good company, and history and facts are on your side. Ignore the compassion trolls, it is ok to push back. We are not broken vessels, and those who maliciously imply that we are such things are no better than those who would spit in your face, as their goals are the same – to degrade your status as a equal.
A starting point for any post on this topic has to be B.G. Burkett's book, Stolen Valor : How the Vietnam Generation Was Robbed of Its Heroes and Its History
. There was a pattern set after the Vietnam War that tried to paint veterans as broken vessels. If you have not read Stolen Valor, then go order your copy now. What was done then is being done now – it even looks the same.
Almost a decade ago, a lot of people heard the first few beats of what is now steady and loud. From the murder of Chief Kyle to the kidnapping of children, to the poseurs written about in the homeless articles in your local papers, it is there.
It comes from two sources; one honorable and one malicious. The honorable sources are those who want to help those who serve or have served, but don't know how to. They tend to look for things to be saved, victims to be helped – and using a legitimate case or two of veterans who have transition challenges as a template, start to see all veterans in that template. There are also those who know someone who has real PTSD or has suicidal thought, and then applies the classic logic error of applying the specific to the general (I saw a duck with a green head today; therefor all ducks have green heads). They are well meaning and should be respected for wanting to help, but if they go too far, their compassion can be counterproductive by feeding the other half of the problem; the anti-military malicious.
We all know the type; the only time they have any respect for those in the military is when they can use them to attack the nation and military they were part of. They also are resentful of the respect those in the military are given in civic culture, and want to do whatever they can to bring that respect down; to marginalize the veteran.
If the veteran is a victim; he is to be pitied. If he is to be pitied, then he must be helped by his betters. If he has to be helped by his betters to function in society, then he is not an equally contributing member of society. If he is not an equally contributing member of society, he can be marginalized. If he can be marginalized, he can be dismissed and his input ignored. If he can be marginalized politically and his contribution to public discourse ignored, then he cannot compete in the marketplace of ideas and influence. If he cannot compete, then he has no power.
That attitude manifests itself in strange places now and then. MSNBC talking head Chris Mathews is a case in point. Reflecting on Sen. McCain's (R-AZ) aggressive questioning of Chuck Hagel last week, Matthews reflected on McCain's performance of his Constitutional duties thus;
"Let me start tonight with this — why is John McCain so angry?" Matthews said. "Forty years after the Vietnam POWs came home, the most famous of them is angrier than ever. Why is America — why are we fighting the Vietnam War all over again in the United States Senate? The ticked-off vitriol against Chuck Hagel, what is it about? Is it for show? Is it about something Hagel said in the cloakroom?"

"Is it about the basic unfairness of Vietnam itself, that some went and some didn't?" he continued. "Is it about Lyndon Johnson's inability to either win that war or end it? What is it that burns so deeply in John McCain these days?"

"Well, tonight, we dig into the deep well of resentment burning in John McCain's patriotic heart — a resentment not against the North Vietnamese who imprisoned and tortured him all those years, not against George W. Bush and his political henchmen who tried to stain McCain's reputation back in 2000 — but against a guy who fought against fear and rallied against wounds, just like he did in the same army of America's long nightmare in Vietnam, Chuck Hagel. A nightmare, by the way, whose flashbacks must haunt still the mind and heart of John Sidney McCain. … I'm absolutely convinced we're watching a flashback."
Quod erat demonstrandum. If they will do that to a Senator and once Presidential candidate – what message does that send to other veterans?
Like I mentioned earlier, a book has been written on the topic, so let me just pick one little vibe out of the zeitgeist; veterans suicides. Just googlesearch it; you'll get the idea.
In a great, fact-based reply, let's go to Greg Jaffe's superb article in the Washington Post. He wanders in to a few fever-swamps of the zeitgeist, but is otherwise a solid article if you read closely and critically.
Every day about 22 veterans in the United States kill themselves, a rate that is about 20 percent higher than the Department of Veterans Affairs' 2007 estimate, according to a two-year study by a VA researcher.

The VA study indicates that more than two-thirds of the veterans who commit suicide are 50 or older, suggesting that the increase in veterans' suicides is not primarily driven by those returning from the wars in Iraq and Afghanistan.
Has the war fought as of late been one fought by residents of The Villages? No.
"There is a perception that we have a veterans' suicide epidemic on our hands. I don't think that is true," said Robert Bossarte, an epidemiologist with the VA who did the study. "The rate is going up in the country, and veterans are a part of it." The number of suicides overall in the United States increased by nearly 11 percent between 2007 and 2010, the study says.

As a result, the percentage of veterans who die by suicide has decreased slightly since 1999, even though the total number of veterans who kill themselves has gone up, the study says.
Statistics are tough; the truth is in the details. See if you catch it.
The veterans' suicide rate is about three times the overall national rate, but about the same percentage of male veterans in their 50s kill themselves as do non-veteran men of that age, according to the VA data.
Ok. Females make up ~15% of the military, and for those involved in combat, then males are well in to the 90%. American males kill themselves at a rate four-times that of females. The military heavily skews male. Starting to see where their story starts to get wobbly?
Sooooo….. anyone who has made even a blogger-in-PJs effort will soon see that you cannot compare veterans suicide rates to that of the general population unless you want to skew the numbers for effect.
Are we also controlling for age, race, socio-economic background, etc … all highly significant factors in suicide? No, of course not. That would get in the way of a good story and/or the non-profit that pays a hefty six-figure salary.
In many cases you have read, you have either lazy journalism, advocacy journalism, or the deliberate contribution to the smearing of veterans – something that has been a regular feature for the last 40 years.
Yes, the compassion trolls will get grumpy at you, and the compassion addicts will think you are a cold and heartless sociopath (she will probably whisper to others that your behavior is just a manifestation of your own PTSD), but they are not the problem – only useful idiots to those who are the problem and deserve your push back – the smear merchants.
Is there a problem with PTSD and veteran suicide? Sure there is – but this constant picking at a sensitive spot until you make it worse does not help fix anything. At worst, it plants seeds of ideas in to the nogg'n of the vulnerable who may act. At the least harmful it impacts the ability of veterans to get civilian jobs when they get out. After all, who wants to hire a bunch of traumatized, suicidal, time bombs? Yea, that is a topic for another day.
Until then, let's see serious studies done by serious statisticians – a study that publishes all the data and variables with the regression analysis. Age, sex, race, ethnicity, regional origin, education level, combat exposure … all those and more.
While we wait for that – buy or re-read Stolen Valor – and push back some. It's not just you

Posted by
CDRSalamander
in
Air Force
,
Army
,
Marine Corps
,
Navy
Tags:
PTSD
,
Veterans