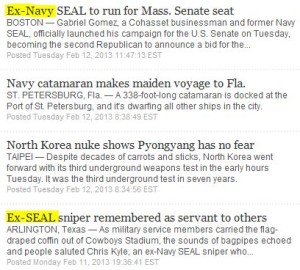 There needs to be some discussion on the use of "ex" in news stories concerning military members across the board.
However, the big offender on the list today (actually yesterday now…) is Navy Times. Yesterday on the site's news pages I read two headlines stating "Ex-Navy SEAL" and "Ex-SEAL…" both are differing subjects (screen shot right). However, within the article they correct themselves to use the proper label of "former." Yes, there is a difference.
Perhaps those at Navy Times know there is a difference and they're only link-baiting… maybe not. Matters not if they are link-baiting to get your attention- they should at least give the individuals they're discussing the respect of proper labels.
So what's the difference? Well, if you ask a Marine they can tell you outright; however, for some reason it's not as prevalent in the other services. The label "ex" (e.g. ex-Coastie) should lead one to believe that this person was once a Coastie but it no longer because they were discharged for wrongdoing or some other ill thing (actual title: Ex-Coastie commits wire-fraud). Whereas the label of "former" spells out that the individual was once a member of said service and left on good terms (good conduct discharge, retired. etc.). For example the Navy Times had a story of an "Ex-Coast Guard member" who wrote a book (I'm reading it with a review soon); however, this was NOT an "ex" Coastie but, in fact, a "former" member of this great service.
The soapbox was there, I stood up and said my piece, now I'll get down.

Posted by
Ryan Erickson
in
Coast Guard
,
Navy
Tags:
by Ryan Erickson
,
Ex
,
Former