Last night I got to visit with a good friend who is about to retire. We spent most of the visit talking about her post-retirement project, which was fitting for Memorial Day: the day after her retirement ceremony, she is embarking on a cross-country bike ride to meet with and interview Gold Star Mothers. The purpose of her ride is to focus on the families and the sons and daughters they lost, to give a voice to the memories that they have, and to remember. She'll ride from state to state, and as she completes each day or more of riding, she will meet these families and conduct interviews. The interviews are not so much formal interviews as they are a way for these families to share their memories of their sons and daughters so that others will get to know them too. She'll see baby pictures and scrapbooks, watch videos and hear stories. And in the process, and in her subsequent work on the subject, she will get to know some of those we have lost and—more importantly—will keep their memories alive.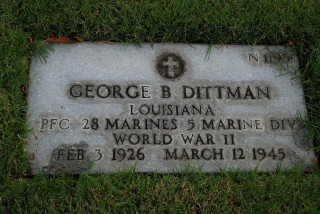 It's going to be exhausting and draining, and I am humbled by the enormity of her project.
We forget so easily—and yes, those of us who have served tend to forget less easily than others, but we all forget at some point—the enormity of the loss and sacrifice that so many have endured. As a nation, we pay tribute on our appointed "holiday" days. And then life goes on for most.
As a child, I often heard the story of my great-uncle George, who enlisted in the Marine Corps during World War II and was killed in action during the Battle of Iwo Jima. He was the youngest of seven children, the baby of a big, Catholic family in New Orleans. Family legend has it that when he was 17, the Marine Corps recruiter told him he was too short to enlist, and he desperately wanted to be a Marine, so he went home and stretched himself out by holding onto the claw feet of the bathtub. Sure enough, within a year, he was miraculously tall enough to enlist, so he shipped out and ended up on Iwo Jima.
Private First Class Dittmann was present for the flag-raising on Mount Suribachi, but just over two weeks later, he was killed. My great-grandparents received the telegram notifying them of his death. Painfully, shortly after that, the mailman brought a letter from George, written shortly before he was killed. Today, my grandmother remembers with incredible clarity the pain of that time. I've only seen two pictures of him, and to the best of my knowledge, that's all that the family had when he died, barely 19 years old.
Things are different now in some ways: technology has changed that. If he had been killed in Iraq or Afghanistan, the details of his death might still be fuzzy, but his pictures, videos, and cell phone messages would still be around. But in other ways, nothing has changed. The grief, the painfully empty space, and the loss are all the same. Memorial Day should make people remember, but only if they have forgotten. Memorial Day in the Washington area is a series of cookouts and sales and pool parties and parades. And oh, that's right, a day to remember those we have lost. For my great-grandmother, and for all of the mothers, fathers, siblings, children, husbands and wives left behind, Memorial Day is not a single, lone day. Memorial Day is every day, every hour, and every minute for the rest of their lives.

Posted by
Jeannette Haynie
in
History
,
Marine Corps