Archive for May, 2013
The good CDR's post helped to solidify in my mind some notions I've had for some time now. These notions concern why there is such fear and hesitation when it comes to writing as a Naval professional.
My hope here is to put forward a different perspective on writing professionally. I will start with the obvious, and work towards what may be less obvious. It is my hope that my thoughts here might make some headway towards changing the minds of readers, and in turn (and in some small part) the Navy's culture. Additionally, all I have to say assumes that we're all well versed in and practice good OPSEC.
There are issues, and what are to me warped perceptions regarding writing in both the institutional aspect Navy and on the part of individual Sailors. In my talks with others more well versed with the state of writing in other branches, it would seem the Navy has a better culture than most, but still it remains that there is much room for improvement.
Foremost is the impression of what it is to write. Many, who step up the first time confuse their trepidation with how their audience will perceive their writing. In this, it is assumed that their words will reverberate with great force, and be a bellwether for change.
In reality, no. It won't be. Even articles published in Proceedings are rarely of exceptional paradigm changing quality. This isn't the fault of anyone, or any single organization. It's the fault of everyone. The ~2 megabytes worth of data (including pictures. If none, then ~150kB) you just introduced into the World is the equivalent of the faintest star you can see in the night sky. Even if what you wrote is considered on par with the greats, your impact will fall well short of making you a household name.
Remember this: you're just part of the system. Your words will be absorbed, digested, and then repeated in a novel way that you may or may not agree with. What writing does is give others ideas that little belong to you once learned by them.
For COs, and senior personnel of all flavors, it's important to remember that as well. That junior person whose 1k – 5k words you might fear is far weaker than it might seem. Take a breath and put their words in a perspective larger than your immediate concerns.
It may seem obvious, but the nature of writing online demands this be mentioned often – don't call people names. This is worth mentioning since much of blogging and the resulting comments (especially the comments) turn into a bull session where finger pointing, name calling, and condemning of whomever the content of the blog involves. That's not writing, just as you're not a poet when you're drunk and blowing off steam at McGuires or Seville Quarter.
Don't mention names, mention ideas. I personally don't care whom thought of what. Everyone has good ideas, everyone has a unique perspective. More often than not, those who are listened to the most are only the ones who can write the best, with their ideas hovering around 3rd rate. A given idea is not better just because it came from someone with senior rank. Neither should an idea be valued more from someone with name recognition more so than it is from someone without. The person doesn't matter, the idea matters when it comes to discussing ideas. Of course if you're rebutting someone else's writing I get that a name must be mentioned. But, aside of ensuring continuity or getting a reader up to speed, don't talk about people, just talk about the idea. The whole point of this is to remove ego from ideas as much as possible.
A second order effect of this notion is that there is significant benefit to someone writing anonymously. Based on my own personal experience, I would even encourage many to start off that way. Reflect on why you are motivated to write, is it to build name recognition, or to better your Navy? Exactly, in talking about ideas and not calling anyone names the need to have a face and name to the words quickly begins to evaporate.
Don't value your life less than you do your career. A military full of people willing to give their life in the line of duty, but just as many who do not write for the sake of their career. This is so counter intuitive I don't think I need to elaborate.
Unless your staff refers to you as the 'old man/woman' or 'the boss' you're not making policy, and your words won't either. What's more is that your words do not reflect the official opinion of the Navy, you're some rank just like a bunch of other people. Actions speak louder than words, if you comport yourself in a professional manner with good military bearing, then your words are just that – words – feeble, devoid of action words that are only an attempt to contribute to the discourse and bettering your Navy. The Navy and your boss do not have much to fear from you.
But, there is a logical limit to such a claim. I wouldn't publicly write anything critical of a decision made by my direct chain of command, or a decision made by those I have to work for/with. Doing as such, and being publicly critical of colleagues, seniors, and shipmates is just bad form, rude, and yes probably insubordinate. But, giving a public opinion regarding a decision made echelons above can be (and should be written towards being) productive. Blogging: real time 360 degree evaluation of ideas.
We're nearly 10 years into military personnel saying things they shouldn't on social media and online. The first year I was in the Navy, my CO warned us at an all hand's to 'stop saying bad things about the command on Facebook.' Such a scenario isn't new, that happened nearly seven years ago. We know how to handle it, and we should all be used to this by now.
Never write to be thanked or praised. I'd rather have my Navy not care that you write than to have it formally recognize you for writing. Why? Because writing is not about the promotion of self. It is about selflessly working to improve your Navy and Country. Non sibi sed patriae, or don't pick up the pen.
The Navy needs your ideas to compete with all the other ideas. The Navy needs you to be well read, and versed on how ideas compete with each other (how it happens online is not too dissimilar in how it happens anywhere else).
The CO gathered a group of petty officers for a brainstorming session. He was looking for some new ideas, and to hear from them what they wanted and needed to do their jobs more effectively. A few ideas were put forward by the more outspoken sailors present, but ultimately nothing came of the session, and the CO shot down every idea with varied reasons why he couldn't implement any of them. Morale following the meeting declined as sailors felt even more ignored by their chain of command.
Does this scenario sound familiar? It has been played out in similar form countless times throughout the Fleet. Our military, we hear, is not innovative. Yet, good leaders seem to understand there are great ideas brimming from their sailors. The difficulty lies in finding the proper tools to tap into that creativity.
This tool exists, and it has been used extensively in the private sector. Wait! I can almost hear the reader grumbling now that "the Navy isn't a business". Agreed-we should not run the Navy like a business, but we can learn some ways that businesses have encouraged innovation and creativity amongst their employees. Furthermore, the process, if done properly, can be very fun-described by one sailor who took part in it as one of the best and most unique experiences he has had in the Navy.
The weigh-in/body composition assessment (BCA) portion of the Navy's physical fitness test (PRT) is in need of a change.
The height-weight tables are based on standards from the insurance industry that are out-of-date and no longer appropriate to assess the fitness of a contemporary military population—if they ever were. The current standards remain in place mainly because they are straightforward enough to allow many collateral duty physical fitness coordinators throughout the fleet to reliably administer them. What is often overlooked is the fact that precision (in this case, ease of replication) is not the same as accuracy.
It can be assumed that nearly everyone wants a force that can safely perform the tasks asked of them and also looks sharp in uniform. The Navy's physical fitness portion of the assessment is divorced from occupational requirements and flawed in its own right, but I intend to talk about here about the more-overlooked BCA.
The Navy is a sea-going force and that presents unique challenges to physical fitness that the Navy prefers to ignore. While it is true that the physical fitness portion of the test can be waived for deployment or operations, the instruction is very specific that BCA cannot be waived. This serves to hold Sailors accountable for an area that they sometimes have very little control over. In addition to the real, physical consequences of rotating shift work on metabolism, there are often very limited healthy food options underway. Opportunities to work out can be similarly limited. While there might be a few functioning treadmills onboard, running in rough seas can be very difficult, even unsafe. The increasing length of deployments only exacerbates this problem. While Sailors may no longer be at high risk for scurvy, eight, nine, or even ten months at sea is still a long time and the toll it takes on one's body is undeniably.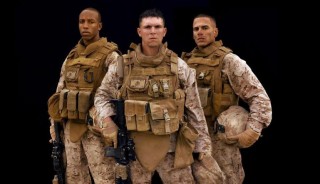 The Marine Corps must contend with two issues – to innovate after a decade of war and to operate under the fiscal pressure faced by the entire Defense Department. It will likely have to reduce its endstrength while adapting to a variety of new threats. These challenges should force the Marine Corps to reconsider some fundamental premises today that will help it effectively adapt to the operational environment ten to twenty years from now.
The Marine Corps must intellectually contest some basic organizational issues. The fundamental structure of the Marine Corps is based on a model that was effective during the World War II and Korea, where high casualty rates, limited communications, and massing of firepower were primary concerns. Is the same organizational structure, particularly the use of enlisted Marines, right for the Marine Corps of 2025 and beyond?
While amphibious operations will be the cornerstone of the Marine Corps for the foreseeable future, it could also find itself in a host of other roles and missions: complete integration into the special operations community, fully distributed operations, partnership building, and even supporting federal law enforcement or intelligence units to counter transnational threats. How will the Marine Corps adapt?
Below are a few "what-if" challenges that should stimulate debate among Marines at all levels on the use of the greatest asset in the Marine Corps, the enlisted Marine, over the next several decades.
What if… the US economy remains flat and unemployment rates climb because automation and robotics have replaced humans in labor-intensive fields? A typical rifle squad of the future may consist of all college graduates and the only difference between an E-1 and O-1 is the training path selected by the Marine Corps. How does the Marine Corps maximize personnel and prevent underutilization of the talent entrusted to it by American society? Harvesting civilian education and skills may become as important as making Marines.
What if… the line between Marine officers and enlisted Marines is erased or significantly blurred? Many retired military officers and scholars alike note the problems with the antiquated military personnel system. Changes in the private sector are often compared to changes that should occur in the military, particularly closing the gap between the roles of officers and enlisted. How can the Marine Corps close this gap? Will 25 different ranks still be necessary to distinguish levels of authority or should the rank structure be compressed?
Join us Sunday, May 5, 2013 at 5pm (Eastern U.S.) (yes, that's 5/5 at 5) for Episode 174: "The New Shipbuilding Plan":
Last month saw the U.S. Navy's newest shipbuilding plan hit the streets.

Is this good news, more of the same, or are there some systemic issues that are being painted over?

What can the Navy expect over the next few years as the defense cuts bite deeper and the battle for wedges of the defense budget pie heats up.

Using their latest article in RealClearDefense as a starting point, our guests will be Mackenzie Eaglen, Resident Fellow at the Marilyn Ware Center for Security Studies at the American Enterprise Institute and Bryan McGrath, Director, Delex Consulting, Studies and Analysis.
Listen live (that's on 5/5 at 5) or pick the show up later by clicking here.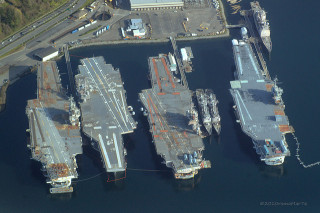 There is a habit in the military of holding one's tongue for the future, when the present would profit most by speaking now.
Some keep their thoughts to themselves when they see problems, or keep them firmly behind closed doors. Others see the requirement to step from the shadows to confront in the open what others are keeping silent about.
Why are so many people in the profession of arms so quiet? The reasons are many and varied; loyalty to ones chain of command, deference to authority, orders, propriety, fear, passivity, verve, desire to retain professional viability, or just a lack of confidence in ones opinions.
When is the supported institution best served by silence, and when by open and contentious discourse? Is this a time for silence, or a time for those at the highest levels of leadership to dare to read, think, speak, and write?
Not put their name to something a person on their staff wrote; not some "It takes a village to write 3,000 words" safety-in-numbers collaboration. No – something in their own words either in their personnel by-line, or by a properly vetted "Federalist Papers" format.
At its best though; Sims, Mitchell and Connolly – there is the benchmark that we need right now.
What do those three General Officers/Flag Officers (GOFO) have in common? Well, at different stages in their careers, they were highly influential due to their very public outspokenness about what was not being done correctly in order to, in their minds, address the critical shortfall in weapons development, procurement and strategy in order to have an effective fighting force.
They put their reputations and careers on the line – while on active duty and planning to stay on active duty – in order to elevate the discussion in the open. The did this for one reason – in order to bring about a better American military.
Sims was sending letters directly to the President, used rather colorful terms to identify critical shortfalls, and was an aggressive publisher of anti-establishmentarian ideas. Mitchell beat the drum and edged across a few lines to pronounce to an unlistening and ossified parochial bureaucracy the future influence of air power upon history. Connolly had no problem aggressively explaining Newtonian physics against the Joint-fetishists of his day. Sims was rewarded, Mitchell was Court Martialed, and Connolly found himself a terminal 3-Star.
They chose the risky path – and rewarded or punished individually; their nation's military were the better for it collectively.
There is another path – it is an honorable one as well – one that has a mixed record of success. While it is true that the higher one goes up the chain, the more perceived "power" one has and as a result has the ability to affect change, most of the time that remains just-beyond reach. That power lever is a mirage. It is a trick. It is the triumph of hope against experience.
Good people who are truly trying to do the right thing often find they have waited too long. That magic set of PCS orders, that enabling rank – it never comes. All of a sudden, they find themselves scheduled for Executive TAP, yet realize their work is incomplete.
And so we find the parting shot. Look at one of General Craddock's final speeches as SACEUR. Look at Admiral Harvey's parting gift, and finally, we have this.
Does the United States need a 300-ship Navy or will it over the next 70 years need seven strategic nuclear submarines on patrol in the Pacific and Atlantic oceans? Each would have 24 intercontinental ballistic missiles, all of which could carry up to five nuclear warheads.

That was the choice Vice Adm. William Burke, deputy chief of Naval Operations Warfare Systems, described Tuesday at the Congressional Breakfast Seminar Series.

Burke, who is set to retire in the next few weeks, spoke frankly about the undersea portion of the U.S. strategic nuclear triad "and its intersection with our shipbuilding plan."

His conclusion: "If we buy the SSBN [the planned 12 replacement strategic submarines for the current 14 Ohio class now in service] within existing funds, we will not reach 300 ships. In fact, we'll find ourselves closer to 250. At these numbers, our global presence will be reduced such that we'll only be able to visit some areas of the world episodically."
This topic of the impact of SSBN recapitalization in the face of a perfect storm of macro-budgetary crisis and the delayed effects of the procurement Lost Decade from poor programmatic decisions that will be the 2020's is not new. Indeed, many of us have been writing and speaking about the need to address the coming "Terrible '20s" for years.
Why is it a GOFO scheduled to "retire in the next few weeks" is the one who is talking about this? On this and many other issues; you can have all the "Disruptive Thinker" JOs and sharp enlisted you can jam in a conference room, you can have scores of retired Field Grade officers pounding away at their dinner table each evening, and you can have the pundit-pondering think-tankers of the Potomac chattering until Judgement Day and it won't have the impact of serving GOFO standing up and speaking without guile or hedge about what everyone sees, but few openly say. As long as they do not, then you will get the B-team working the creative friction.
What impact can a GOFO have as he is heading out the door? Not really that much. Like a lame-duck politician – his professional capital is spent. The cynic and critic will simply dismiss his comments as sour grapes. His natural allies will just set their jaws and mumble "too-little-too-late." If the only issues he raise are related sequester, then he will be looked at as just a political hack.
Are these professional death-bed conversions helpful? While the decision to be silent and work behind the closed door is a valid and honorable one, in the end is it really a false economy of delayed revelation? Better late than never, or just another lost opportunity?
Sure, comments heading out the door can be helpful, important, and impactful in a fashion, but they have but a shadow of the impact they could be have had if these actions took place in the open, in high profile, years before while the GOFO were still in uniform and intended to stay as such for another tour or two.
As our Fleet shrinks and is balanced out with either sub-optimal platforms such as LCS or expensive Tiffany porcelain dolls; as our carrier decks are full of short-legged strike fighters and underarmed expensive F-35s (TBD), our deployed Sailors are burdened by a bloated, demanding, and ineffective Shore/Staff fonctionnaire cadre, and a money-sponge of a SSBN recapitalization requirement is squatting right in front of us – where are our Sims, Mitchells, and Connellys?
Do we need them? Do we have them? What do they need to do?
Newer Entries »