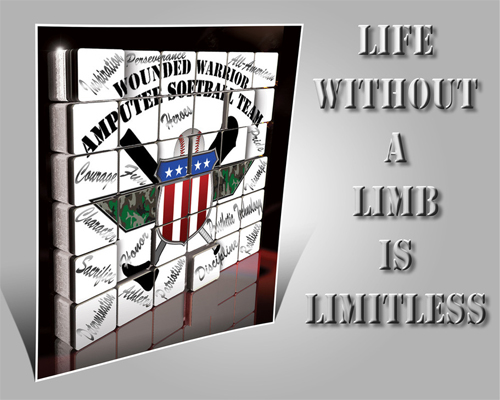 "Inspirational," said many in the crowd. "Amazing" was also a common sentiment. And some of the spectators were even heard to whisper: "Life-changing." The event, dubbed the First Annual NFL Players vs. Wounded Warrior Amputee Softball Classic, took place on Saturday night, 1 June, at Prince George's Stadium, home of the Baltimore Orioles' Class AA Eastern League affiliate Bowie Baysox, in suburban Maryland.
The field had been modified to softball specifications, with the pitcher's mound closer to home plate, the bases closer to each other than the big-league configuration of the Baysox infield, and the home-run fence brought in just a bit closer to home. Make no mistake, though. To hit one out of this park still required a prodigious blow, several of which were witnessed on this hot and humid night.
Billed as a chance "to showcase how technology is making prosthetic limbs better and is improving the quality of life for limb-loss veterans and to raise money for Wounded Warrior organizations," the game pitted a group of volunteer players from the National Football League against wounded warriors from across the country who lost extremities during the wars in Iraq and Afghanistan and the war on terrorism.
Fittingly, the event sponsor was Medical Center Orthotics and Prosthetics, which provides lower-limb prosthetics for Walter Reed Military Medical Center like the ones making it possible for the Wounded Warrior Amputee Softball Team to compete. Besides the team, beneficiaries from this fundraiser—which was aiming to raise $50,000—were the Yellow Ribbon Fund and the Wounded Warriors Project.
Among the football pros in attendance were co-hosts DeSean Jackson, two-time Pro Bowl wide receiver for the Philadelphia Eagles, and Washington Redskins wide receiver Josh Morgan. Others on the team were fan-favorite Torrey Smith, wide receiver for the 2013 Super Bowl Champion Baltimore Ravens, other members of the Ravens, Redskins, and Eagles, along with players from the New York Giants, New England Patriots, Dallas Cowboys, New York Jets, and Detroit Lions.
But even though a throng of fans were enticed here with promises of autographs from celebrity athletes, the real stars this night were the wounded warriors, who ended up signing nearly as many baseballs, footballs, softballs, photos, and posters as the people who play sports for a living.
Seated behind a printed sign that read "Kyle Earl" was a U.S. Marine from Kalamazoo, Michigan. The diminutive young man shook hands with his admirers with his left hand. His right forearm had been amputated after the Humvee he was driving in al Anbar Province, Iraq, succumbed to an improvised explosive device. Through his night-vision goggles, he noticed a bump in the road and immediately determined it was an IED. But rather than avoid it, he drove directly over it so that the Humvee behind him would not hit the device with Earl's unit commander on board.
So, how does one play softball without a hand? "I swing with one arm," he said. "No big deal." Sure enough, Lance Corporal Earl, the team's fleet-footed right fielder, steadies the bat handle with his right stump (he does have a prosthetic hand he's learning to master) and swings cleanly with his left arm, making solid contact with the ball almost every time.
Manuel Del Rio's sign at the autograph table mistakenly labeled him as having served in the U.S. Army. When the San Ramon, California, resident was seated, he immediately took out his pen and crossed out "Army" and inserted "Navy." Seaman Del Rio had been serving on board the USS Kitty Hawk (CV-63) in support of the war on terrorism, when a mishap on the carrier's flight deck pinned him under an aircraft, trapping him for 20 minutes. The incident caused him to lose much of his right leg.
Did he ever in his wildest dreams think he'd be sitting across a table from a long line of people wanting his autograph? "No, never," he said. After surveying the young men behind the table it was evident that the members of this group are not interested in attracting attention for their softball prowess. "We just want to show people what the possibilities are, even when you're faced with challenges like this," Del Rio stressed.
The action started soon after Bowie Mayor G. Frederick Robinson threw out the first pitch. Clearly, the NFL stars realized they should keep their day jobs in their professed sport, especially after the shellacking they took in the seven-inning game. The Wounded Warrior team won, 21-5, in a contest that was limited to a maximum of five runs per half-inning. But this was all about so much more than softball. Everyone in the stadium—including wounded-warrior spectators maneuvering up and down the stadium steps—held high hopes that, with the financial and moral backing of the American people, these brave veterans are also winning the game of life.

Posted by
Fred Schultz
in
Marine Corps
,
Navy