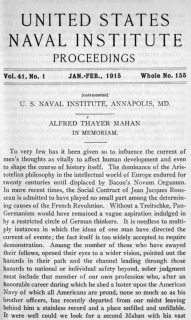 To very few has it been given so to influence the current of men's thoughts as vitally to affect human development and even to shape the course of history itself. The dominance of the Aristotelian philosophy in the intellectual world of Europe endured for twenty centuries until .displaced by Bacon's Novum Organum. In more recent times, the Social Contract of Jean Jacques Rousseau is admitted to have played no small part among the determining causes of the French Revolution. Without a Treitschke, Pan-Germanism would have remained a vague aspiration indulged in by a restricted circle of German thinkers. It is needless to multiply instances in which the ideas of one man have directed the current of events; the fact itself is too widely accepted to require demonstration. Among the number of those who have swayed their fellows, opened their eyes to a wider vision, pointed out the hazards in their path and the channel leading through those hazards to national or individual safety beyond, sober judgment must include that member of our own profession who, after an honorable career during which he shed a luster upon the American Navy of which all Americans are proud, none so much so as his brother officers, has recently departed from our midst leaving behind him a stainless record and a place unfilled and unfillable. It were well could we look for a second Mahan with his vast knowledge and accurate logic, but candor forbids us to expect. We are only permitted to hope-and in how many doubts that hope is shrouded-that as time goes on another may arise endowed with like passion for truth, like ability and the like gift of making clear and obvious what all have gazed upon without seeing.
Three natures were combined in this exceptional personality. First of all was the Christian gentleman, devout and earnest, giving daily, practical, outward expression to an inward conviction at once sincere and fundamental. His belief in Christ's mission and in the world to come as revealed in Holy Writ was without shadow or question. Things earthly and material might not be what they seemed. Errare est humanum. Even so well poised a mind as his might be mistaken in its findings, but no possible chance of going astray existed or could exist in complete reliance on the promises of his Lord and Master to all those who truly follow Him. And follow Him Mahan did loyally throughout his years from youth to age. His abiding sense of duty, the keynote of his character, forbade a merely perfunctory compliance with ecclesiastical requirements and forced him to take active part in the management of the religious communities to which, from time to time and in various places, he belonged and to represent them at annual conventions of the Protestant Episcopal Church. For many years he was connected with its Board of Missions and with the Church Institute for Seamen. During a shorter period he was a member of the Church Institute and of the Church Mission for Help. All his charitable interests lay in the church through which alone, to the extent of his means, he sought to aid his fellow men. This devotion to his church was the manifestation of a faith which controlled every thought and every act of his life. All his serious undertakings, all his important letters even, were preceded by an appeal for Divine guidance. It is impossible to understand Mahan unless this mental attitude is recognized in its full power. Those ignorant of this side of his character may read his little book, "The Harvest Within," and in the reading find profit to their own souls.
The second of the natures in this composite individuality sought scope in his chosen calling as a naval officer. Duty, in whatever form it came, was sacred. Invariably he gave to its performance the best that was in him. That he distinguished himself preeminently on shipboard cannot be claimed. Luck or circumstances denied him the opportunity of doing things heroic, and his modesty those purely spectacular. As a subordinate or as captain of a single ship, what he did was well done. 'No further proof of his qualities in this respect is needed than the fact that, at the outbreak of the Civil War, when finishing his midshipman's cruise, he was asked by a shipmate, an officer who expected a command, to go with him as " first lieutenant." To his colleagues of the Old Navy this invitation was the highest form of professional approval. The fates decreed that the wider field should not be his wherein, as commander-in-chief of a fleet in war time, he could have exhibited the mastery he surely possessed of that art with which his name will forever be indissolubly linked.
It is the third of the natures mentioned by which he will be known of men so long as the doors of the temple of Janus remain open. For that nature no better descriptive phrase occurs to the mind than "Naval Philosopher." Historian and biographer he was, and none stood higher in his own chosen line as witness his works on sea power and his lives of Farragut and Nelson, but Mahan was far more than an analyst or a Boswell; he used history and biography as tools with which to forge a philosophy whose effects; stupendous, titanic, are visible this very day.
His treatises are standard the world over and are translated into many foreign tongues. When advice was asked from Cape Town as to what books should be acquired for a naval library there, the answer came back from London, "Buy Mahan." "But we have several copies already and money still to spend; what shall we get?" The reply was brief and to the point, "Buy more Mahan." So weighty were his utterances that, in the House of Commons, when naval affairs were under discussion, a member had only to remark, "Mahan says so and so," to enforce conviction and close that phase of the debate.
The regeneration of Great Britain's Navy which began in the nineties and was carried on under the Naval Defence Act of 1889 may be traced directly to Mahan's works. It has been said that the modern British Navy is Mahan's creation, an hyperbole which contains far more than a grain of truth.
Nor have other countries escaped the impact of his philosophy. His "Influence of Sea Power on History" opened the Kaiser's eyes to his impotence on the water and was, undoubtedly, one cause, probably the greatest single cause, of the upbuilding of his fleet. If so and if, as believed by many, the passionate rivalry due to this upbuilding coupled with the realization that paramountcy on the land alone would fail to give Germany the place she regarded as her right in the world at large, may not this war raging at present in Europe be attributed in some measure to the effect of Mahan's teaching? "Whether the teaching in this particular instance is well or ill, justly or unjustly, applied is a question which cannot with propriety be touched upon in these pages.
Says a British writer: "When we see all the nations who have been sitting at the feet of Admiral Mahan and reading his well-known 'Sea Power' books and who, having read, have believed, and having believed, have acted, we have the clue which explains why in recent years our legions of the sea have been drawn with an ever greater attraction around our coasts."
In person Mahan was tall, spare, erect, with blue eyes, fair complexion, hair and beard originally sandy. He respected his body as the temple of his soul and he paid it the homage of abstemious living, of outdoor games and abundant exercise. In manner he was modest to excess, dignified, courteous. Reticent in speech with people in general, those who enjoyed the rare privilege of his intimacy knew him to be possessed of a keen sense of humor and a fund of delightful anecdotes drawn from his long and varied experience. To such friends he was a most charming companion, so different from the grave, self-contained philosopher as he appeared to the rest and less favored of his acquaintance. His home life was ideal. He may be said to have been bound up in three things-his church, his family and his work. Outside of these, nothing counted.
A condensed statement of his services and of the honors conferred upon him in recognition of his epoch-making writings is appended, together with a list of the latter and the dates of their first publication; also a few extracts from appreciative letters of condolence. His books should be on the shelves of every naval officer, no matter under what flag he may be serving.
It is wholly without the scope of this notice which endeavors, however inadequately, to present the man as he was to those who knew him well, to dwell upon the importance of his professional works. Of that all the world is abundantly aware. But those who wish to know him more completely should read "From Sail to Steam," as entertaining a story of sea life as can anywhere be found, brimful of fun, passing "from grave to gay, from lively to severe" with unexpected and fascinating suddenness. It depicts with master hand the transition from ships in which Drake and Hawkins would have felt at home to the present floating monuments of nautical engineering, as well as the no less momentous change from the able seamen of his boyhood to the trained mechanical expert of to-day.
While a view of Mahan's outlook on men and things may be gained in reading "From Sail to Steam," so valuable through its conscientious adherence to truth (in marked contrast with some of its kind that while eminently readable are often rather untrustworthy), quite as essential is " The Harvest Within," revealing as it does, Mahan in his attitude to his Creator. Thoroughly to understand Mahan, both these books should be studied – a labor of love which is commended to every American naval officer.
To suggest that the field for investigation such as Mahan's is exhausted would be an insult to his memory. No better tribute could be paid to it than to emulate his shining example. Thus, it may be confidently asserted, would he speak were his lips not sealed in death.
The Naval Institute is the navy's spokesman, in a literary way, for all that concerns naval history, science and art. Sympathizing deeply with his widow and children in their great bereavement, it is eminently fitting that the Institute, on behalf of the service at large, should claim the right to share in their grief and to mourn with them to-day the loss of what was and never again shall be.
Record and Principal Services of the Late Rear Admiral A. T. Mahan, U. S. Navy
1840. Sept. 27, born at West Point, New York, son of Professor Dennis H. Mahan of the U. S. Military Academy.
1854. Matriculated at Columbia College in the city of New York.
1856. Sept. 30, appointed acting midshipman in the navy. From the 10th Congressional District of New York. Entered the third class.
1859. June 9, graduated as midshipman.
1859-61. Frigate Congress. Brazil station.
1861. August 31, promoted to lieutenant.
Converted steamer James Adger for ten days.
1861-2. Steam corvette Pocahontas, South Atlantic Blockading Squadron.
1862-3. Naval Academy, then at Newport, Rhode Island. First lieutenant of the Macedonian during the summer practice cruise to Europe in 1863.
1863-4. Seminole, West Gulf Blockading Squadron.
1864-5. James Adger; on staff of Rear Admiral Dahlgren; James Adger
1865-6. Double-ender Muscoota.
1865. June 7, promoted to lieutenant commander.
1866. Ordnance duty, Washington Navy Yard.
1867-9. Steam sloop Iroquois, Asiatic station.
1869. Commanding gunboat Aroostook. Asiatic station.
1870-1. Navy yard, New York.
1871. Worcester, home station.
1872. Receiving ship, New York.
Nov. 20, promoted to commander.
1873-4. Commanding side-wheeler steamer Wasp in the river "Plate."
1875-6. Navy yard, Boston.
1877-80. Naval Academy.
1880-3. Navy yard, New York.
1883-5. Commanding steam sloop Wachusett, South Pacific Squadron.
1885. Naval War College, as lecturer on Naval History and Strategy.
Sept. 23, promoted to captain.
1886-9. President Naval War College.
1889-92. Special duty, Bureau of Navigation.
1892-3. President Naval War College.
1893-5. Commanding Chicago. European station.
1895-6. Special duty in connection with Naval War College.
1896. Nov. 17, retired as captain on his own application after 40 years' service.
1896-1912. Special duty in connection with Naval War College.
1898. Naval War Board.
1906. June 29, rear admiral on the retired list.
1909. Delegate to Hague convention.
1914. Dec. 1, died at the Naval Hospital, Washington.
Academic Honors
1894. D. C. L., Oxford.
LL.D., Cambridge.
1895. LL. D., Harvard.
1897. LL.D., Yale.
1900. LL. D., Columbia.
1909. LL. D., McGill.
Member of the American Academy of Arts and Letters, of the National Institute of Arts and Letters and of the American Historical Association.
Published Works
1883. The Gulf and Inland Waters.
1890. The Influence of Sea Power on History.
1892. The Influence of Sea Power on the French Revolution and Empire. 2 Vols.
The Life of Admiral Farragut.
1897. The Life of Nelson. 2 Vols.
The Interest of America in Sea Power.
1899. Lessons of the War with Spain.
1900. Problems of Asia.
The South African War.
Types of Naval Officers.
1902. Retrospect and Prospect.
1905. Sea Power in its Relations to the War of 1812. 2 Vols.
1907. Some Neglected Aspects of War.
From Sail to Steam.
1908. Naval Administration and Warfare.
1909. The Harvest Within.
1910. The Interest of America in International Conditions.
1912. Armaments and Arbitration.
1913. Major Operations of the Navies in the War of American Independence.
A Few Tributes Out of Many from Varied Sources
His former clerk, the ships' writer of the Wachusett, writes: "I loved and revered him as a father."
The American Historical Association, in a letter of condolence to his widow, says:" Admiral Mahan was a frequent attendant at the annual meetings of the council. There are many of us who regarded the opportunity of meeting and hearing him, both at the business sessions and at the customary council dinner, as one of the notable privileges associated with membership in the council."
At a meeting of the trustees of the American Church Institute for Negroes, held at the Diocesan Home, the board in a formal resolution expressed their sense of the very great loss they have sustained in the death of Rear Admiral Mahan. He was always most deeply interested in the work of the Institute and was one of the most regular attendants at its meetings. His counsel and advice were always greatly prized and it will be difficult if not impossible to find anyone to fill his place."
Admiral Sir Bouverie Clark, R. N., states that "it has always been a source of pride to me to be able to say I had the friendship of so distinguished a man."
After eulogizing Mahan's work in the Institute for Negroes, Bishop Greer, of the Diocese of New York, continues: "Let me add how much the advice and counsel of your honored husband meant to me, not only in the work of the Institute but in many other relations of life. I shared with all the world the admiration for his eminent services in his chosen profession, and yet, beyond and above all that, I admired him for the beauty and charm of his Christian character."
In a resolution of sympathy for his family the board of managers of the Seamen's Church Institute remark: "His deep interest in all matters which concerned the good of seamen and his unfailing and unselfish service in their interest will be gratefully remembered by all who had the privilege of working: with him."
Mr. Henry M. Upham gives this picture of Mahan, when, as lieutenant commander, he joined the Muscoota, "to which I was attached with the modest rank of acting master's mate. He was then, as always, a striking looking man….. He was most kind to me, helping me in the study of navigation and in every other way….. The world is richer for his having lived and poorer for his having passed from it."
Nor is the appreciation of his character and labors confined to his contemporaries. A young man, Mr. Frederick P. Keppel-in spite of his youth, dean of the College of Columbia University-thus speaks; "How much has gone out of the lives of the younger men who knew your husband! We counted his friendship, not only as a great honor and privilege, but as a great personal pleasure. I do not know of any man, distinguished or unknown to the world, whose friendship meant more to the men of the younger generation."
At this moment it is too early to have received kindred expressions from abroad. That they will come shortly in large numbers and from all comers of the earth cannot be doubted. In the meantime the British Ambassador in Washington is moved to say: "It is my duty on behalf of the British Admiralty to express the sorrow British sailors feel at the death of your husband."
Resolution passed at a meeting of the Council of the Navy Records Society, December, 1914: "The Council of the Navy Records Society desire to offer to the family of the late Admiral Mahan a sincere expression of sympathy and to record their sense of the loss the British Empire has sustained by the termination of the career of one who so generously appreciated the real work of the Royal Navy."
Although other countries, besides our own, and other navies profited by the insight and knowledge with which he drew and discovered the great conclusions of naval history, the British service is his chief debtor. The achievements of our sailors were his theme and their consequences his doctrine. There is probably no officer in any of the battle fleets and squadrons now serving all over the world who has not been and is not now being encouraged and instructed by the truths he taught about sea power.

Posted by
admin
in
Navy
Tags:
Alfred Thayer Mahan
,
Proceedings